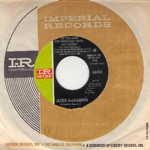 Jackie's a minor rock 'n roll legend with a number of hits to her credit, some sung by her, others written by her and made famous by others, and she's on a short list of people who opened for the Beatles on their three U.S. tours. This song, from 1969, was written by Hal David and John Barry and actually appeared on the soundtrack to
"On Her Majesty's Secret Service"
before Jackie covered it. In case you were wondering, the trees need sunshine, raindrops... and love. The song has that classic late 60s pop sound that so many young musicians these days are reaching to reproduce. On the flip is "Christmas," a Jackie original and more of a big orchestra ballad. Both are downloadable in the modern day. Shouldn't step away from this entry before noting that Jackie's big hit in the same year,
"Put a Little Love In Your Heart,"
is nowadays imagined to be a Christmas song by some folks. No doubt that's because of the 1988 cover by Annie Lennox and Al Green that was not only in the Bill Murray Christmas movie
"Scrooged,"
but was a top 10 hit with its heavily Christmas-themed video propelling it on the charts.