Gold, Frankincense and Mirth, various artists (Mistletunes, 2002)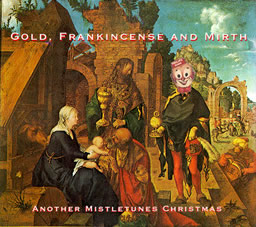 Here's the track list for my personal CD of Christmas tunes. This goes out to a small number of people, but a wide variety of ages and sensibilities, requiring me to factor out gratuitous vulgarity and controversial content, so I reluctantly left off "Merry Christmas Emily" by Cracker and "Bizarre Christmas Incident" by Ben Folds.
"Santa's Got a Brand New Bag," SHeDAISY - I was quite frankly stunned at this coming from a group ostensibly considered country. It's an original, not based on the James Brown tune, and it's a rollicking good CD opener.
"Hark! The Herald Angels Sing," Fab Four - From one of their two new Christmas CDs, A Fab Four Christmas, the Beatles imitators lay this classic carol over the arrangement for "Help," with excellent results.
"Everything's Gonna Be Cool This Christmas," The Eels - Keeping things uptempo in the early going, from the British benefit compilation It's a Cool, Cool Christmas.
"Do They Know It's (Snoopy's) Christmas," The Kustard Kings - A brilliant melding of one serious and one frivolous tune in a strong organ-led instrumental.
"Silent Night," Angie Aparo - From the 99X compilation, it's hard to find a good pop/rock version of this carol because it's so solemn that people usually just give in and do it straight. This version takes a less sedate look at the tune.
"BeClaus I Got High," Bob Rivers - The reigning king of Christmas parodies hooks the popular Afroman ditty up with the holiday on his White Trash Christmas CD.
"O Little Town of Bethlehem," from A Supervox Christmas - I'm always up for a little reggae, especially as this pairs off nicely against the previous tune.
"Merry Xmas Everybody," Oasis - Originally by Slade, this more sedate take by the Britpoppers is a nice change of pace.
"Angels Running," Cher - Yes, Cher. This is off Target's cheapie compilation, I don't know if it's on any of her albums. Even though it's not particularly Christmasy from a lyrical standpoint, it fits in nicely in this collection. It stands out simply because she's NOT shrieking her way through it like the vast majority of today's wannabe divas would.
"Donna and Blitzen," Badly Drawn Boy
- A nice bit of holiday fluff from the
"About a Boy"
soundtrack, although I found it on the
Seasonal Greetings
compilation.
"Maybe This Christmas," Ron Sexsmith - The title song from the 2002 Nettwerk compilation, it's unassuming but grows on you.
"Mr. Mojo's Christmas," The Wise Men - I rave about this single elsewhere on the site, of course; a wonderful parody of The Doors.
"The Man Who Would Be Santa," Vertical Horizon - A nice midtempo original from the Aware Greatest Hits compilation.
"Merry Christmas Brother," Cynthia Gayneau
- Another original, a little sappier, from Violent Femmes' Gordon Gano and his
Hitting the Ground
album, which is the soundtrack to a
movie
. It also features cameos from John Cale, Lou Reed, They Might Be Giants and a few others.
"God Rest Ye Merry Gentlemen," Crash Test Dummies - A bit of insincere cocktail jazz with the contrabass voice of Brad Roberts, but it works nevertheless.
"Blue Holiday," The Shirelles
- I didn't even know this existed until I found it on the
Santa Clause 2
soundtrack. The 60s girl group belts out this holiday ballad.
"The Wildest Christmas," The Boys Next Door - This is from a German compilation of 50s rockabilly Christmas tunes. It's a little poppier than that, though, and is concerned with Santa getting caught in the chimney. Good for giggles.
"Snow Day," Bleu - It's a shame this cool rocker is an independent release out of Boston, which means it won't get to be the children's winter anthem it deserves to be.
"Me and Mrs. Claus," Bob Rivers - Yeah, I know, the second cut from his latest album. There are certain people receiving this CD who will swallow their dentures when they hear this.
"Together at Christmas," moe - One of two originals on the band's just-released holiday album, and the more upbeat of the two.
"The Fruitcake Song," 5 Chinese Brothers - It's so rare to get a Christmas tune set to the Bo Diddley beat that I just lunge for them when I do find them.
"Boogie Woogie Santa Claus," Brian Setzer Orchestra - Rockabilly with horns. I used his "Jingle Bells" in a previous year's CD.
"Happy Xmas (War Is Over)," John Lennon and Yoko Ono - Besides being my personal favorite of all rock Christmas tunes, the Vietnam-era sentiment of the subtitle somehow manages to be relevant nearly every year. Or haven't you been reading the papers?
No TrackBacks
TrackBack URL: http://www.mistletunes.com/cgi-bin/mt/mt-tb.cgi/180