Wake Me Up Before You Ho-Ho, various artists (Mistletunes, 2007)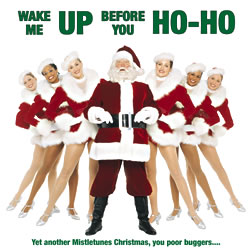 Hello once again from the world of wild 'n wacky Christmas (and sometimes Hanukkah) music. Once you've spiked the eggnog and regifted last year's unopened fondue set, it's time to really celebrate. Here's the playlist to help you do that.
"Almost Christmas Day," Automatics -- You've probably noticed that singers and bands you haven't heard from for a while suddenly pop up with brand new Christmas albums, but you probably don't expect a real live punk rock band from the late '70s to do so. Nevertheless, this is what we have here, a nice solid kickoff to this year's mix.
"Santa Gave To You What You Gave To Me," Jake Brennan and the Confidence Men -- A nice, solid bluesy rocker, and I'll let you figure out what the singer's girlfriend gave him/got from Santa.
"Closer to Jerusalem," Lisa Mychols
-- A sharp little rocker driven by cheap 60s combo organ, you can almost imagine this being played in the background during "Rowan and Martin's Laugh-In" while Goldie Hawn dances in her bikini. (For the younger crowd, here's the
Wikipedia
article.)
"Santa I Got Your Number," Tommy Tutone -- The one-hit wonder from the 1980s recasts his one hit, "867-5309," as a Christmas song. Somehow it's funnier when the original artist does it, as opposed to waiting for a parody performer to do it.
"Christmas Wish," Darlene Love -- Took her 44 years, but she finally issued a sequel to her history-making performances on Phil Spector's A Christmas Gift To You. This tune originated with cult band NRBQ, but Darlene's performance really puts the song on the map.
"Winter Wonderland," The Joe Gibbs Family of Artists -- Gibbs is a Jamaican music producer who originally made a reggae Christmas album in 1979. It finally made its first digital appearance this year, and since my vinyl copy has a ski jump-sized warp in it, I downloaded a fresh copy so I could throw you this curveball from the sunny realms, sung by Beres Hammond.
"Mele Kalikimaka," KT Tunstall -- The things you stumble over when you shop at Target, which is where I found a six-song disc of holiday tunes from this young singer-songwriter. Thought I'd keep the holiday in the tropical realm for one more song.
"Santa's Back in Town," Joel Kopischke -- Come on, you always thought "Mack the Knife" had Christmas written all over it, right? Yeah, well, it's still good for giggles.
"All That I Want," The Weepies -- There seemed to be a lot of interest in this song lately, partially because it's sweet and catchy, but mostly because 30 seconds of it appeared in a JCPenney commercial. Indeed, the band's independently released CD that contained the song has disappeared from the online store that carries it. Fortunately for the band, iTunes never runs out of stock.
"Let It Snow," Luscious Jackson -- While we're on commercial themes, I finally tracked down a copy of this, which appeared on a Gap commercial a decade ago. They mix up the chords in a slightly disorienting way, but it rocks out, so it's OK by me.
"Gary the Green-Nosed Reindeer," MC Lars -- The mythology of Christmas gets a few extra pages from this hip-hop takeoff on Rudolph's half-brother from across the color wheel who thwarts another of Osama bin Laden's evil plots. I know an administration that could use a guy like Gary.
"Flash Gordon," Baxendale -- This strange Christmas story appears to have some connection to the movie serial hero, but while you're trying to puzzle that one out, you get to enjoy this soundscape reminiscent of the Pet Shop Boys.
"Rocking Around the Christmas Tree," LF -- At least these guys' parents don't nag them about the hours they wasted in their youth at the arcade anymore. Who knew there was holiday gold to be mined in "Donkey Kong?"
"How Do You Spell Channukkahh?," The Leevees -- Two Jewish guys, one from Guster and the other from The Zambonis, joined forces to make a whole album of tunes like this one. Even though Hanukkah missed Christmas by a country mile this year, I always try to include an offbeat tune for that holiday as well, and this definitely fits the bill.
"One Little Christmas Tree," Sister Hazel -- These guys are ringing out 2007 with an album of Christmas favorites, and as far as I know are the first to do a good rocking cover of this Stevie Wonder song.
"Christmas Time All Over the World," The Smithereens -- I've always loved these Jersey boys, and this original tune brings out the season while staying true to their classic rocking sound.
"Don't Shoot Me Santa," The Killers -- Had these guys on last year's disc, and they're back this year with a new Christmas single. Reprobate Santas are always fun in a twisted sort of way, and ever since Ray Davies wrote "Father Christmas" for the Kinks, in which Santa gets held up by a gang of tough guys, I guess we had to expect he'd turn the tables one day.
"All I Want For Christmas Is You," Teddy Geiger -- If you've been asking yourself why you can't go anywhere during the holiday season without hearing the original version of this song by Mariah Carey, Teddy gives you the answer by stripping things down to just voice and guitar. It's a pretty good song even without the diva moments.
"Jesus Christ," Mike Mills and Sally Ellyson -- The R.E.M. bassist and the singer from Hem band together for this charity single, a cover of the classic Christmas song by power pop godfathers Big Star.
"Shopping Mall of Broken Dreams," Joel Kopischke -- Sharp-eyed readers might recognize this is the second song from Joel on this disc, but my wife wanted me to use both, and who can blame her? This takeoff on Green Day's "Boulevard of Broken Dreams" is right on the nose.
"Glad It's Christmastime," Universal Honey -- This Canadian duo put out a great CD of mostly original Christmas tunes four years ago, and I thought it's past time to dip into that well once more. Power pop with holiday spice.
"I Want a Monkey For Christmas," The Barbary Coasters -- Don't know quite where this originated, sounds like a 60s girl group backed by a garage band of the same era, doing this wacky takeoff on Chuck Berry's "Roll Over Beethoven."
"Christmas Makes Me HOT!," 13 Stories -- Just stumbled over this pop-rock band from Atlanta on MySpace. This up-to-the-minute tale of a girl in an Internet relationship with an elf is good fun, even if the melting polar ice caps mean it isn't practical for a resident of the North Pole to keep a reliable connection to the Internet. (Can you tell I was considering calling this collection "Snow Global Warming?")
"The Christmas Twist," Syd Straw -- Finally, we let this singer take us out to the beat of a genuine holiday dance craze, a 46-year-old one at that. Merry Christmas once more.
No TrackBacks
TrackBack URL: http://www.mistletunes.com/cgi-bin/mt/mt-tb.cgi/175