Fifty Shades of Holly & Ivy, various artists (Mistletunes, 2012)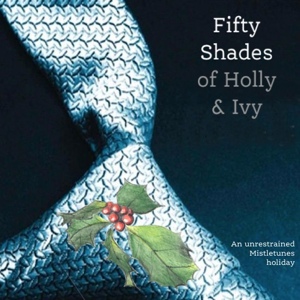 If you've been with us for the whole sequence of annual Mistletunes mix disc releases, then you've always known it would feel as good as this, that it would send your thoughts scattering as you feel the sensation, that your inner goddess would do the merengue with some salsa moves. And that while awaiting the 2012 disc, anticipation would hang heavy over your head like a dark tropical storm cloud. And now the torrent of sonic holiday sensations is released. Here's what you're experiencing....
"Jingle Pressure (Queen & David Bowie vs. Smokey Robinson)," dj BC -- Mashups started as live moves to keep the dance floor filled, but the form has evolved as DJs take their record collections into the studio and cut 'n paste their favorites together into something new. Not every mashup is a masterpiece, but this comes pretty close.
"Christmas Already?," Martin Rivas -- That's what we all say round about Oct. 15 every year, unless we shop at Nordstrom's, anyway. A nice uptempo bit of kvetching.
"The Season's Upon Us," Dropkick Murphys
-- There's been a minor trend toward Gaelic rock going back to the Pogues, and these guys decided to grab a piece of the Christmas action being monopolized by that other band's
"Fairytale of New York."
Could be the theme to "Shameless."
"I Want You For Christmas," Cheap Trick -- This band's biggest radio hit gets retinseled for the holidays this year as part of the latest Special Olympics fundraising disc. I always liked these guys.
"Señor Santa (Mister Santa)," Y la Bamba -- Another repurposed old song, "Mister Sandman," gets turned not only into a Christmas song but a Mexican ballad as well.
"A Christmas Song," Elizabeth Chen
-- This song was this woman's assignment on
a reality show
. Don't know if she won, but she should have.
"Sleigh Ride," Karmin -- A nice combination of tropical beats and old Phil Spector riffs keeps the shine on this old classic. This was the theme for a Coach commercial, but given the current economy and the decimated record industry, it's unfair to call them sellouts.
"And the Salvation Army Band Plays," Helen Love and Ricardo Autobahn -- Old school British punk with a pop veneer plays nicely with downtempo lyrics about lost love and a heat meter that's run out of tokens on the holiday.
"(There's No War on Christmas) When Christmas Is In Your Heart," The Mockers
-- The title pretty much says it all, and the band name is what is being done to all the people who have tried to make a holiday tradition out of "fighting for Christmas." The Puritans are dead, folks, and
they were the only ones
who ever tried to stamp out Christmas.
"Frankincence," The Prog World Orchestra -- The Edgar Winter instrumental hit "Frankenstein" becomes the vessel for a hard-rocking Christmas medley.
"Drink My Way Through Christmas," Karen Kilgareff -- Taking the title literally is not recommended, especially if you have to drive or get out of bed early, but we all sympathize. And laugh. Don't worry, we're laughing with you, not at you. Actually, we're doing both....
"Hard Candy Christmas," Tracey Thorn -- The vocalist from Everything But The Girl did a whole album of Christmas tunes this year, and considering her alt-rock credentials, this choice from an 80s musical was not entirely expected. But it's got a nice melancholy vibe.
"One Christmas At a Time," Jonathan Coulton and John Roderick -- The talk-sing approach is a time-honored novelty tradition, and this tune trades in ideas that may later become cliches. By then, they'll be on to something else.
"Open Up the Box Pandora," The Jigsaw Seen -- Garage rockers from New Jersey, these guys are on their second Christmas album in two years, and this would be the hit single if they played rock and roll on the radio anymore.
"Snow Falls Down," Good Old War -- This up-and-coming Philly band provided this gentle rocker for WXPN-FM's latest compilation of local bands doing Christmas songs.
"Kissing Santa on Christmas Eve," Kelly Jones -- Nice 60s girl-group homage from a girl singer who's crushing on Santa. If you see a silver necktie and handcuffs, Kelly, it's not Santa....
"You're the Best Thing About Christmas," Mr Weebl vs. Right Said Fred -- Mr Weebl is a cartoon character, so I'm going to assume that the makers of giant 90s hit "I'm Too Sexy" had the most to do with knocking out this holiday synth-pop future classic.
"Christmas Balls," John Flynn -- Another Philly performer makes the playlist with this gentle bit of folky joshing about getting an air rifle for Christmas. Of course, this won't remind anybody of anything....
"Atheist Christmas," Robert Crenshaw
-- A warm pop-rock ballad that points out you don't have to be Christian to love Christmas. As he sings, "We loved the Christmas songs,
many written by Jews
."
"Warm This Winter," The Shambles -- We all want to be warm for the holidays, and it's easier to do that when you're dancing to this driving power-pop-rocker.
"I Wanna Be Dentated/Blitzen's Bop," Mojochronic -- Another mashup in which the Ramones meet the Three Stooges and Ray Conniff, and holiday hijinks ensue.
"Happy Xmas (War Is Over)," Jeff Tweedy, Mavis Staples, Sean Lennon and the Harlem Gospel Choir -- I could include different versions of this classic rock Christmas song every year, so I try not to, but when the guy whose dad & mom made the original takes a crack at it, attention must be paid.
"And a Happy New Year," Mikey Wax -- Taking us out of this year's playlist is a nice boogie shuffle to start the new year. Hope you enjoyed this year's ride.
No TrackBacks
TrackBack URL: http://www.mistletunes.com/cgi-bin/mt/mt-tb.cgi/1188