The Naughty or Nice Bucket Challenge, various artists (Mistletunes, 2014)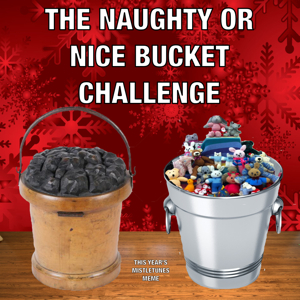 Since I wouldn't want anybody to injure themselves or set themselves on fire, I will limit my own personal challenge to everyone to immerse themselves in the happy holiday jams I've gathered together for this year's annual Mistletunes tradition. (I'm currently trying to do the same with the ones sent by the folks who do the same for me.) Without any further ado (as though there had been any ado to start with), here's this year's playlist.
"A Very Merry Christmas," The Hipwaders -- They're a kids' band, but as you'll hear, this song is rocked-out holiday goodness suitable for all ages.
"Money, Honey, Baby," The Connection -- These guys were up for "Cool Song of the Year" at Little Steven's Underground Garage on SiriusXM, and while this song about the root of all Christmas evil wasn't the network's actual selection, I think you'll understand from hearing it why the Garage likes, really likes, them.
"Ho Ho Ho," Liz Phair -- The alt-rock queen of "Exile In Guyville" fame knocks out a snarky pop-rocker about the down side of the holiday.
"Purple Snowflakes," Jessie Baylin -- Retro 60s pop-rock with a touch of hipster irony remind us that there might be something worse than the normal white-colored snow we put up with in winter.
"Skip the Sugar (Good Girl)," The Living Sisters -- Speaking of snow, there's not much of it in the forecast in the land where reggae rules, although I can't say the same for the places where this ad hoc group of girl singers hail from. But I can say I'm always up for rocking steady at Christmas time.
"Without You," Roxy Roca -- This regional soul band brings the funk to the holiday festivities, even if they couldn't manage to bring a girlfriend.
"Worst Time of the Year," Shaprece -- This might be the girlfriend who wouldn't celebrate Christmas with Roxy Roca.
"This Christmas," Sinclair -- Donny Hathaway has the classic song of this title, but this is a completely different song, a nice mellow love ballad set in the holiday season.
"It Ain't Christmas Yet," Ben Kweller -- Time to crank up the guitars again for this song about not celebrating (or bumming out) too early.
"No Lou This Christmas," Tom Dyer -- This should have been on last year's disc, but I was a dope and didn't manage to ferret it out until too late. With Lou tapped for a solo spot in the Rock Hall of Fame this winter, it's still a good time for this Lou/Velvet Underground pastiche.
"Got Gratitude," The Love Dimension -- A little garage-psychedelic music to expand your mind over the holidays.
"Robotic Christmas Tree," The Amoeba People -- A little rap, a little synth-pop, and a few laughs. What more could you ask for?
"Text Me Merry Christmas," Straight No Chaser with Kristen Bell -- Because there's always someone in the room who can't put the damn smartphone down.
"Do You Hear What I Hear," The Blind Boys of Alabama & Taj Mahal -- Can't overlook roots music on the compilation, especially when these guys so radically remake a familiar carol.
"Let It Snow," Diplomats of Solid Sound -- Old-school soul for the playlist, and I love the way they mashed the popular song together with "Tighten Up" by Archie Bell and the Drells. Since this isn't a video, however, we'll never know whether, in addition to singing, they can dance just as good as they walk....
"Hush Lil' Baby (Merry Christmas)," Annie Marie Lewis -- Jerry Lee's niece knocks out a nice holiday remake of "Hey Bo Diddley."
"Bad Good," Smoke Fairies -- These alt-rock chanteuses sing about following, or not following, the rules of Santa Club in regard to naughtiness and niceness.
"Nicholas," Work Drugs -- A dance-floor workout that cranks up the synths as somebody named Nicholas sings the Christmas blues. Wonder who that is...
"Snow," New Found Glory -- Here's a nice ballad that plays with the idea of a cold season and warm memories.
"Christmas Is Coming," Rhett Butler and Sydney Wayser -- A nice acoustic boy-girl duet that won't remind you of "Baby It's Cold Outside," or what some folks have taken to calling "the Christmas date rape song."
"It's Christmas Time," Roses & Revolutions -- More of the same sentiment, a little more uptempo.
"It's Hard To Be a Cat at Christmas," Cats Across America -- I guess this is the love theme from "Grumpy Cat's Worst Christmas Ever" (yes, that was a Lifetime movie this year). As a cat owner, I can assure you that it's not hard to be a cat anytime, at least at my house.
"When Christmas Comes," Los Campesinos! -- These guys give the modern rock anthem treatment to a good new Christmas song.
"Walking in an LA Winter Wonderland," Mojochronic -- Couldn't get through this year's mix without at least one holiday mashup, so merry Christmas to Missing Persons and Jean Dixon (not the old psychic lady)
"December," Earth Wind and Fire -- You first heard this song when it was named after a different month of the year, but it's a great song anytime.
No TrackBacks
TrackBack URL: http://www.mistletunes.com/cgi-bin/mt/mt-tb.cgi/1533