Statement of purpose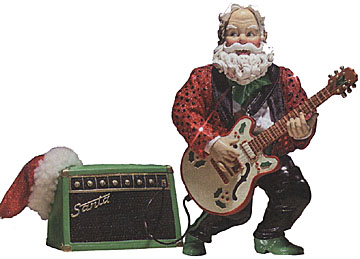 Very few people don't love Christmas. It's the most highly anticipated holiday of the year. People gauge the validity of their whole lives against their perceived happiness level at this time of year. But in this age of "family values," society seems to have decided that only Christmas celebrations worthy of The Waltons are valid. In reality, there are plenty of folks out there who would like Christmas a lot more if it were a little less sappy.
And that's where Mistletunes comes in. Come here and discover the soundtrack to your rockin' Christmas celebrations.
This site exists to allow those who believe in a rock 'n roll Christmas to celebrate the season their way -- from a musical standpoint, at least. I have about 30 years of record collecting under my belt, although I don't bring a collector's viewpoint to my appreciation of music, just a music lover's. I've made a minor specialty out of my own personal vision of a rock 'n roll Christmas, so I'll set down some non-exclusive guidelines that may fluctuate over time, based on the feedback I get from you.
1. Rock 'n roll is an attitude, not a line of demarcation or a marketing hook. As a result, you will see some silly pop and novelty records celebrated here, along with the occasional jazz, blues, reggae, rhythm 'n blues, rap, folk, world music, even polka record if it fits my personal vision of what a rock 'n roll Christmas should be. On the other hand, there's only so much I can do, so I probably won't be putting non-rock stuff up here just to poke fun at it; I think you folks are quite capable of taking the ironic approach without any help from me.
2. I cannot say whether this vision will fit other December year-end festivals like Hanukkah or Kwanzaa, but you may feel free to adapt the attitude found here to that end. (Just don't "adapt" any actual text without proper credit to this page and its Webmaster.) Where I discover tunes on those subjects, they will be mentioned.
3. My personal biases run in favor of Christmas records by rock 'n roll bands and novelty Christmas records that haven't been run into the ground over the years. This does not mean I intend to exclude or denigrate records that do not fit these parameters, however. I'm not a fan of rap, but I do believe it fits closer to rock 'n roll than the r 'n b from which it springs. I like a lot of r 'n b, but I find that, especially over the past 15 years or so, r 'n b Christmas records tend to be either straight gospel renditions or pop excursions into vocal gymnastics, which are certainly valid from a musical standpoint but lack that rock 'n roll attitude we're looking for here. Finally, I respect the personal choice that leads people to name "Grandma Got Run Over By a Reindeer" as their favorite Christmas record; it's merely my personal opinion that such people have found this site in the nick of time. I used to like "Grandma" myself, some three decades ago when it first came out ....
4. Country Christmas records are generally verboten here, as they tend to range toward gospel and folk and ooze excess sentimentality. Valid exceptions that fit the rock 'n roll attitude will be entertained, however.
5. NO MANNHEIM STEAMROLLER OR KENNY G! This is the closest this site gets to a First Commandment, and believe me folks, like the original 10, it's graven in stone. By the way, we're extending the ban to Michael Bolton and Celene Dion. Sorry, but they've only themselves to blame.
6. Records discussed here will not necessarily be items readily available at your local mall record store, and certainly not at your local Wal-Mart. (Support locally-based record merchants whose stock coincides with your tastes, and encourage them to broaden their stock with your special orders. Of course, if Wal-Mart ran your local record store out of business, there's always the Internet.) Some will be out of print, others will be available only as imports, some may even be concert tapes or bootlegs. (This site disavows any first-hand knowledge of the bootleg or file-sharing trade; our position is to discuss music and encourage legal releases of records not generally available.)
7. I do not think that my idea of what constitutes rock 'n roll supersedes anybody else's. Nevertheless, for the purposes of this site, I get to be the final arbiter of what constitutes a rock 'n roll Christmas, if such a thing is ever actually needed. It is my opinion, and fervent hope, that it will not. Contributions are encouraged and any new information added in updates will be credited to its source. In return, info taken from this site must be credited.
No TrackBacks
TrackBack URL: http://www.mistletunes.com/cgi-bin/mt/mt-tb.cgi/4