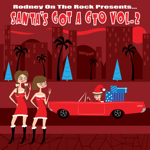 Volume 1 with the same title,
also curated by Rodney Bingenheimer, aka Rodney on the ROQ (until this year anyway, but I believe he's still spinning discs on Sirius XM), is currently pulling down collector money when you can find it, so you might be curious about the 2017 version. The title song by the Ramonas repeats -- same version and everything -- as does "The Characters Visit Rodney," a bit of filler where people ask Santa Rodney for gifts, but that leaves 12 other cuts (or 14 if you download it). The Dollyrots' "All I Want For Christmas is You" is here, the Donnas provide a slamming version of "Up On the Housetop," as do the Glitter Critters (featuring Clem Burke of Blondie) with "Little Drummer Boy," and C.J. Ramone offers a solid rocker in "Christmas Lullabye," in the spirit if not the actual sound of his namesake band. "Merry Christmas to You" by Peter 118 is a fine punk thrash, Karen Bassett performs a power-poppy "It's Almost Christmas Time" with a melody that reminds me of a song by
Universal Honey
, The Mansfields keep the onslaught going with "Broke on Christmas Again," Kat Meoz gives a holiday tour of the Sunset Strip on "Christmas in Hollywood," and Color TV's "This Christmas" is a solid slice of punk-pop. Kristeenyoung throws a little Phil Spector into her holiday ballad "I Won't Be Home For Christmas," the Tearaways poke fun at holiday traditions in "Helluva Christmas," Frankie & The Studs mine holiday coal with "I'm On the Naughty List," and Launch Control goes all "oi oi" with "My Name is Santa and I'm a Punk Rocker." Currently, the sitch with this lovely punk-pop-rock collection is that you can download it from iTunes or you can buy it on vinyl from Amazon or your favorite record store. If you go the download route you get two additional songs, a rockabilly "Santa Claus Is Coming to Town" by the Mansfields (second tune for them) and the fabulous "Wake Up Christmas" by Lisa Mychols, which is
unsurprisingly
one of the best things on the album. Will it go for collector's prices down the line like the first one did? Who cares, just listen to it.