Occupy 34th Street, various artists (Mistletunes, 2011)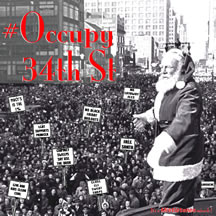 As is the holiday tradition around these parts, it's time for the compilation that treats the 1 percent to Christmas music the 99 percent will never hear, as long as all those "Christmas radio stations" only have about 20 or so records, at least five of which are Mariah Carey. Gather round the fireplace kiddies, whilst I regale ye with tales of a rockin' Christmas.
"Welcome Christmas," The Grip Weeds -- Mainstays of Little Steven's Underground Garage, these folks put together a nice all-Christmas album for 2011. This is their take on a great song from the classic TV special "How the Grinch Stole Christmas."
"Nuttin' For Christmas," Plain White T's -- A nice punked-out version of this venerable old holiday novelty -- and one we hope isn't playing out for real in this year of diminished expectations.
"It's Christmas," The Polyphonic Spree -- Originally recorded back in this orchestra and glee club's salad days, they've fished it out, remixed it and put it into play for this and future holidays.
"California Christmas," Oh, Hush! -- A nice pop radio shout-out to my peeps on the left coast who have to endure sun, sand and surfing on Christmas day. The poor bastards....
"Christmas Was Better In the 80s," The Futureheads -- A nice excuse to indulge in a few new-wavey sounds by folks who were just toddlers in that era. This is what Sha Na Na would sound like if they got together today....
"Christmas Alone," The Black Swans featuring Eve Searls -- This indie band recruited a girl singer to put across this counter-intuititive ode to privacy on the holiday.
"Wonderful Christmas," The Click Beetles -- A bunch of really nice guys from Wisconsin mine that old-school Mersey sound while celebrating Christmas.
"Frosty the Snowman," Zee Avi -- This minor key version of the popular classic appeals to my sense of humor. The singer's from Southeast Asia but this sounds more like Eastern Europe to my ears.
"Christmas in the City," Birds Fly South -- British guys take a stab at writing a new holiday classic, name-checking everybody's holiday favorites like Santa, Frosty, Rudolph and so on.
"Christmas All Over This Town," The Plimptons -- George and Martha knock out a nice rocking take on the holiday for 2011. Oh, all right, it's not actually them....
"Candy Cane," The Jigsaw Seen -- Another power pop-garage band came out this year with a full Christmas album, and this is just one of many great wintertime tunes from these guys.
"Christmas Cookies," G. Love -- Because the holiday season is all about the desserts, in case you haven't noticed.
"Christmas Eve For Two," Summer Fiction -- This Philly band with the ironic (for the season) name throw themselves back to the late 50s with the arrangement to this romantic ballad. Bow doh doh doh indeed.
"Santa Stole My Lady," Fitz and the Tantrums -- Rock and old-school soul merge in this reproach to old St. Nick for pulling a Tiger Woods on the singer's girlfriend.
"Naughty Naughty Children (Better Start Actin' Nice)," Grace Potter -- Tell Chuck Berry the news, Grace appropriates "Run Rudolph Run" for this rocker that was on the soundtrack of a Disney Christmas special.
"The Cowboys' Christmas Ball," The Killers -- These guys are on their sixth year in a row with a special new song for Christmas, all done to help the fight against AIDS. This year's number is a kind of holiday take on "Rocky Raccoon" in its Hollywood-movie version of the Wild West at Christmas.
"Stranded in Snowville," The Winter Sounds -- A nice bit of low-fi indie-pop to carry you through the snow.
"Eight Nights of Bowling," The Amoeba People -- Which is as good a way to celebrate Hanukkah as any, I suppose, since all my Jewish friends keep telling me that Hanukkah is really a minor holiday on the Hebrew calendar.
"The Coldest Night of the Year," The Very Most -- This Idaho band duets on this song, turning it into a doppelganger of "Baby It's Cold Outside."
"Christmas Time," Piney Gir -- A nice retro sound from this group best known for its view of Americana music through a UK born-and-bred perspective.
"(Don't Call Me) Mrs. Christmas," Emmy the Great and Tim Wheeler -- The girl with the immodest name and her boyfrend serve up a great holiday breakup song, one of several great originals on their own new Christmas album.
"Bad Boy Christmas," The Yule Logs -- This full-time Christmas music band admits to bad behavior while evoking Smokey and the Miracles.
"Lagavulin For Christmas," Vegas With Randolph -- Because you just can't party down properly for Christmas without top-shelf whiskey.
"All I Want Is Christmas," The Summats -- Taking us out on a 70s rock and roll vibe reminiscent of Roy Wood's Wizzard or Slade, these folks take their message down to the basics.
No TrackBacks
TrackBack URL: http://www.mistletunes.com/cgi-bin/mt/mt-tb.cgi/1079