Santa's Tworkshop, various artists (Mistletunes, 2013)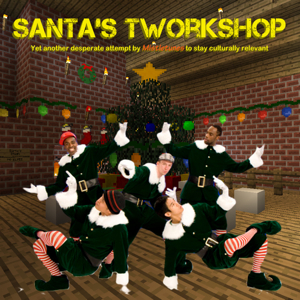 Here 'tis, the annual Christmas compilation for people who want something different from a worldwide holiday. Less commercialism, less pressure, less people acting out in ways that would not please the birthday boy. More joy, more beat, more guitars, more boogalooing, and yes, more twerking. Mistletunes has done its best to build a tradition around these tenets, and here's how it plays out on one of these round pieces of plastic that haven't gone away yet....
"Every Day's a Holiday," Piney Gir -- And it really is when this bright-eyed bunch of Brits obsessed with Americana pick up their instruments, especially when they're singing about this particular holiday.
"White Christmas," Bad Religion -- Building on a Ramones riff, this holiday evergreen will have you slamdancing in no time at all.
"Merry Xmas (Says Your Text Message)," Dragonette -- A rocking pop ode to modern methods of communication and the way they can feel less like a greeting and more like a kick in the teeth.
"And Anyway It's Christmas," !!! -- Band names can be a little too cute, to the point where it's impossible to tell your friends about a great band because you can't explain their name in 25 words or less. But that's their problem. You get to enjoy this fine piece of holiday synth-pop.
"Why Should Christmas Be So Hard?," Attic Lights -- The holiday may be hard, but this bit of Phil Spector-influenced 60s pop rock goes down nice and easy.
"Christmas at the Airport," Nick Lowe -- Nick's gone pretty mellow in recent years, but his songwriting hasn't lost a step; there's more than a few giggles in this travel-based misadventure.
"Twinkle (Little Christmas Lights), JD McPherson -- Old-school rockabilly/pop rears its head in the modern age thanks to this young singer-songwriter.
"Christmas Time Again," The Connection -- A fine power pop ode to Christmas, running down all the holiday traditions with a bit of 50s backing vocals to spice things up.
"Time of the Season," Sons of Hippies -- Bet you never thought of the classic Zombies hit as a Christmas song, eh? Shows what context can do for you. These guys spice it up with a bit of horror-show guitar and drums, but otherwise, it's not far off the original.
"Last White Christmas," Voicedude -- This year's nod to the War on Christmas is a bit of classic rock sacrilege, in which an iconic song from Cream gets run through the "Glee" wringer and Christmas wins in a walk.
"The Christmas Song (Chestnuts)," Erasure -- If you ever wondered what this song would sound like if sung by the Mario Bros., these classic 80s synth-poppers demonstrate. Although I don't think that was the intention....
"Under the Mistletoe," Never Say Never -- This young rock band recruits Dia Frampton to duet on an original crack at a "Baby It's Cold Outside"-style holiday ballad.
"Ho Ho Ho (A Bow and Nothing More)," The Smoking Flowers -- Every once in a while we get a girl singer stalking Santa Claus, and in this case Santa expresses his approval.
"Christmas Day in the Sun," Hot Hot Hot -- Because however culturally comfortable we are with white Christmases, plenty of us would hang our ornaments on a palm tree if we had the chance.
"Misfit Elf," Stroke 9 -- A brash little number featuring an elf who has offbeat ideas for Christmas toys that turn out to be hits with the kids. Sort of what "The Office" would be like if it starred Santa and the elves.
"Christmas Thyme," The Olms -- A cool little number evoking 60s contemporary pop balladry. Imagine a garage band crossed with the Carpenters, if you think the old brain pan can stand it....
"Bottom of the Chimney," Ken Rosenberg -- A perfect parody of Delta Rae's hit "Bottom of the River," reimagined for Christmas.
"I Can't Wait," Richard X Heyman -- More power pop, because we can't get the Beatles to do any new songs.
"I Hear (Click, Click, Click)," The Rosebuds -- Don't think these guys named themselves after old Charlie Kane's sled, but I could be wrong. Nice singalong rocker with nonsense syllables, since there's no lyric sheet.
"Always Christmas," Pete RG -- A good pickup line becomes a romantic Christmas rocker.
"Christmas Madness," The Rocket Summer -- They mean the good kind of Christmas madness, not the bad kind.
"It Sucks To Be Born Around Christmas," Ovis -- For those with holiday season birthdays who always heard this lame excuse: "Well, we'll have a combination birthday and Christmas this year."
"Toymageddon," Yo La Tengo -- No, this isn't about Black Friday in a Toys R Us parking lot; it's sci-fi, in which the toys come to life and enslave humanity. Hey, there's more plot to this song than there is in any of the "Transformers" movies.
"Just Like Rudolph," DJ Tripp -- Because we couldn't decide what to end with, here's a mashup of several different things featuring the Cure and Gene Autry, and "The Island of Misfit Toys" to boot.
No TrackBacks
TrackBack URL: http://www.mistletunes.com/cgi-bin/mt/mt-tb.cgi/1425