The Bipolar Express, various artists (Mistletunes, 2004)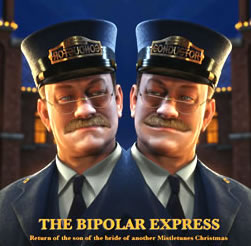 It's a new holiday, so let a man come out and burn a mix CD. Time for the 2004 rundown:
"Dance of the Sugar Plum Fairy," Mag Seven -- Kicking it old school this year, I decided to open and close with a couple of "Nutcracker"-related items. This one's from Electric Ornaments, a 2000 indy-rock compilation on Idol Records.
"Single at Christmas," The Crossbank Strays -- This regional British band was shooting for an early '70s English pop chart vibe, specifically one as laid down by Roy Wood's Wizzard on their classic "I Wish It Could Be Christmas Every Day." I'd say they came pretty close with this ode to dating over the holidays.
"Hey Santa," Chris Isaak -- The rockabilly crooner decided to take on Christmas this year, so here he is with this scratchin' little shuffle about the big guy in red.
"Back Door Santa," Jet -- I said pretty much everything about this cut back at the main Mistletunes site, except to add that it does this elderly hipster good to know that young white guys still want to be middle-aged black soul crooners when they grow up.
"Merry Christmas Darling," Mary Karlzen -- She's a country-rocker who knows a good opportunity to rock out when she sees it. Here she puts a beat to this Carpenters standard. Taste-tippers may recall she did a pretty sharp version of "Run Rudolph Run" several years ago, too.
"Wrap It," American Comedy Network -- A fine holiday parody of the Devo hit "Whip It."
"Elf's Lament," Barenaked Ladies -- These crazy Canadians went for broke this year with an entire CD of Christmas goodness. This is one of their originals, featuring their trademark understated wit on the topic of holiday ennui.
"Missile Tow," Mosquitos -- This is a free download from their website, or at least it remains so through the holiday, anyway. This trio has some fun mixing cultures both musically and lyrically -- hope Bill O'Reilly doesn't find out.
"Mr. Heatmiser," Big Bad Voodoo Daddy -- From their newly released Christmas CD, this cover of the song from the classic TV special "Night Without a Santa Claus" features the band laying down that brand of nouveau swing that made them semi-famous.
"Proper Crimbo!," Avid Merrion -- I'm never sure when I compile these CDs whether I have enough in the way of tunes that make listeners go "WHAT?" Having tracked this down from Britain, I'm confident there is at least one tune in this collection that will perform that function. Merrion is the star of "Bo Selecta," a comedy sketch show from England's commercial Channel 4 (which is why you're unlikely to encounter this on BBC America).
"Carol of the Meows," Guster -- Sure, the Jingle Cats did this, but how often does a real band do something like this with a straight face? The Boston pop-rockers dropped this at the iTunes Music Store.
"Have Yourself a Merry Little Christmas," Aimee Mann
-- One for the
"Magnolia"
fans in the audience. I can just see Bill Macy unwrapping his Christmas presents to this with his back to the living room window, as frogs rain down on the lawn .... (Guess you had to see the movie.)
"Lonely Without You (This Christmas)," Mick Jagger and Joss Stone -- A great performance from the soundtrack of the remade "Alfie." I love these big showy soul ballads.
"Pimp My Sleigh," Houseman (From Galactic) -- This is from a new collection of New Orleans-styled tunes called Christmas Gumbo, and it's one of the less likely places I would have expected to find this original novelty tune about, well, pimping your ride.
"I'll Be Home," Negative Space -- Another original, this modern rocker comes from The Central-PA Christmas Compilation.
"The Christmas Song," The Raveonettes -- Swedish garage rockers grab a famous title and graft their own catchy number to it. This should have been on last year's compilation, but I downloaded it from iTunes and promptly forgot I had it. We old people have to adjust to keeping track of tunes that don't arrive on CDs....
"First Snow of the Year," Hawksley Workman -- I love how he gets all emotional over the first snow but warns us in advance that he's likely to have a nervous breakdown if he's still shoveling this stuff off his walk in March. But then, he lives in Canada.
"Tired of the Hanukkah Song," American Comedy Network -- And so am I, and so, probably, are you. Tell Adam Sandler it's past time for him to write a Boxing Day song. No, wait....
"Do You Hear What I Hear," Copeland -- This guy takes the Beth Orton/Dido approach to the carol, mixing the folky singing with the electronica backing.
"Christmas Time is Here," Chomsky -- Couldn't resist the opportunity to use a more rocked-up version of this song, typically done as a ballad.
"I Got Coal," Deathray Davies -- I like how you can't tell whether they're going to break into Iggy Pop's "The Passenger" or Heart's "Magic Man" before they finally cut loose with an original musing on what it means to be naughty rather than nice. Can't wait for Bernie Kerik's cover version of this song.
"Mele Kalikimaka," Poptart Monkeys -- A neat modern acoustic rock arrangement for this classic tune about Christmas in Hawaii.
"Rudolph the Red-Nosed Reindeer," PETTY BOOKA -- When I think "Japanese female ukelele singing duo," I immediately think someone should record them performing a popular Christmas classic as a mambo. And you should too.
"It Doesn't Often Snow at Christmas," Pet Shop Boys -- These guys must have abandoned their native England for the south of France when they wrote this title. Props to the guy who e-mailed an mp3 of this to me, as it was done for their fan club and is otherwise completely unavailable to the public.
"Takin' Care of Christmas," Randy Bachman
-- That's Bachman as in Bachman-Turner Overdrive, and this is that band's biggest hit song recast as a Christmas tune. Believe it or not, this predates "Christmas is All Around," the similarly re-tinseled Troggs song featured in the movie
"Love Actually."
"Nutrocker," Shalini -- B. Bumble and the Stingers did this back in the early 60s as a follow-up to their hit "Bumble Boogie," a rocked-up version of "Flight of the Bumblebee." This, obviously, is the same deal applied to "The Nutcracker." Which is where we came in. Merry Christmas and Happy New Year.
No TrackBacks
TrackBack URL: http://www.mistletunes.com/cgi-bin/mt/mt-tb.cgi/178