Manger Things, various artists (Mistletunes, 2016)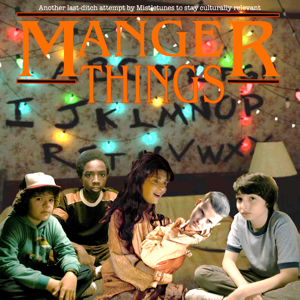 As you fans of the Netflix series are no doubt aware, these residents of a small town stumbled onto monsters that were kidnapping their friends and dragging them into an alternate dimension called the "upside-down." Gotta say it feels like 2016, looking in the rear-view mirror -- the passenger-side one, where objects appear smaller than they actually are -- is when we all slipped into the upside-down, where, like Barbara from the show, we lost so many good souls before their time. And it sure feels like the malevolent crowd at Hawkins Laboratories just got their hands on the keys to everything.
Nevertheless, it's Christmas time, and the need for a playlist of joyful noises never goes away, and that's why we're here.
"You Show Me Yours at Xmas," The Senti-mentals -- And I'll show you mine. Presents. Why, what did you think we were talking about?
"All I Want For Christmas Is You," The Dollyrots -- Because there's no adult contemporary anthem that doesn't perk up when you do a punk rock version of it.
"Liquor In My Stocking," Guns of Nevada -- I fully endorse this proposal. Just make sure it's still in the bottle when you put it in the stocking.
"Sleigh Full of Toys," The 60s Invasion -- The Yardbirds never managed to make a Christmas record, so these guys stepped up to correct the historical record.
"I Don't Want to Trim Your Tree," G Matthews -- She's playing hard to get on the holiday -- or at least, she doesn't want to be stuck with the decorating.
"Little Drummer Boy," piKziL -- I'm always down for arrangements of familiar carols that subvert the popular versions, and making the drummer play tropical rhythms instead of martial beats certainly qualifies.
"It's Christmastime," The Empty Hearts -- A bunch of guys from the Cars, Blondie and the Romantics decided the holiday needed some power pop, and they've proven to be right.
"Marshmallow World," The Regrettes -- Nice that this young, mostly-girl band saw fit to pay tribute to the Darlene Love version from the classic Phil Spector Christmas album.
"Everybody's Having Fun (It's Christmas Time)," Natalie Prass -- This slinky little number is all about having a good time on the holiday, and so are we.
"Christmas Trees (feat. Proteje)," Major Lazer -- Reggae seems to be tapering off as a popular musical form, but it doesn't look like these guys got the message. Also sounds like they've got other kinds of plant life in mind, and that they're not waiting for the after-Christmas bonfire to break out the lighter.
"Some Hearts (at Christmas Time)," Low -- This band practically invented "shoegaze" as a form of indie-pop music, and this stop-motion ballad has a nice melody.
"The Sweetest Season," Deerheart -- Nice 12-string jangle-pop anthem celebrating the Christmas season.
"O Christmas Tree," Mike the Prophet -- Because you always wanted to hear this done to a Latin rhythm, right?
"This Is a Christmas Song, My Love," Jaymay -- Well, that's stating the obvious. Still, it's got a great beat and you can dance to it.
"All Alone on Christmas," Work Drugs -- This Philly band gives us a fine ode to feeling left out on the holidays with just a taste of that soulful Philly-Jersey sound.
"Back For Christmas," Andrew Belle -- A melancholy little synth-pop number to provide us with a change of pace.
"Lets Have a Rockin Christmas," Jackie Kringle & the Elves -- Some garage-rock for the holiday. As long as you're out there, bring the aluminum tree into the game room, OK?
"Winter Wish," Oh, Hush! with Hanna Ashbrook -- That a great pop-rock tune like this one isn't on your local radio station is probably why nobody listens to the radio anymore.
"Never Had Christmas," Rope Store -- These English guys still remember 70s glam rock, or at least their grandparents told them about it....
"Christmas Is a Time For Giving," The Prissteens -- One of those almost-made-it bands produced by the same guy who gave us Blondie dipped their toe in the Christmas pool, and we get a little Phil Spector and a little Go-Go's for the holiday.
"Creepy Christmas Party," Las Pistolas -- Bobby "Boris" Pickett, white courtesy phone, they're stealing your act, dude!
"Christmas Time Is Cruel," The Bayonets -- One of the guys in Paul McCartney's touring band got together with Little Steven to put together this cautionary holiday tale that would fit right in on the Underground Garage.
"Last Christmas on Planet Earth," Palma Violets -- Nah, it just feels like it right now. Right? Right?
"New Year's Eve," Brian Cullman -- Because when all else fails, usher the old year out with somebody you just hooked up with. Happy Holidays!
No TrackBacks
TrackBack URL: http://www.mistletunes.com/cgi-bin/mt/mt-tb.cgi/1775