Egg-Nog-Noggin' On Heaven's Door, various artists (Mistletunes, 2009)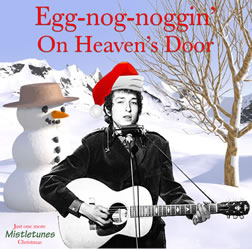 The recession reached its full blossom in 2009, but hopefully we can distract ourselves for, oh, 75 minutes or so with the non-traditional tradition of a Mistletunes compilation. Needless to say, the fact that Bob Dylan gobsmacked everybody with his decision to cut a Christmas album was the inspiration for this year's cover -- it somehow made everything else that happened this year look utterly run-of-the-mill. Here comes the rundown:
"Must Be Santa," Bob Dylan -- Well, what else were we going to start with but the most festive cut from the man's Christmas album? Yeah, that's what I thought.
"Is This Christmas," The Wombats -- A bit of Kinks-ian observation of holiday festivities and the stress that preparing them engenders. A bouncy rocker bracketed by Salvation Army horns.
"I Have an Ugly Christmas Tree," Oh Hush! -- Not everybody would cop to that, but these guys revel in the horrors of an ugly tree left up too long. Somewhere, Charlie Brown is smiling.
"I Wish It Was Christmas Today," Julian Casablancas -- A member of the Strokes wondered what would happen if he treated a bit of "Saturday Night Live" schtick like it was an actual song, and interesting things happen.
"Cry Cry Christmas," The Sweptaways with Magnus Carlson and the Grey Brigade -- This gang of Swedes was clearly obsessing over the Phil Spector Christmas album when they made what sounds like a song left off the original.
"Funky Funky Christmas," Electric Jungle -- As once was hidden in the blink of a couple of frames in a Simpsons episode, the 70s are back, so let's drink like it. This dance floor classic never made much of an impression upon the charts, but it's a booty-shaker supreme.
"My Menorah," Chevonne -- This is the first sexually risque Hanukkah song I can recall stumbling across. Imagine Lady GaGa at a bat mitzvah.
"Stoned Soul Christmas," Binky Griptite -- The Laura Nyro classic gets a spray of artificial snow for the holidays.
"I Believe in Father Christmas," U2 -- Though people love the Emerson, Lake and Palmer version for its bombast, the Irish rockers manage to evoke nearly the same emotions in this stripped-down arrangement.
"Away in a Manger," The Very Most -- An uptempo rendition of this classic carol led by ukelele, of all things. It's a real change of pace.
"Everything I Want For Christmas," Keri Noble -- Holding down the "Grey's Anatomy" soundtrack candidate slot on this year's compilation is this sweet, catchy original.
"It's That Time of Year," The Revelations featuring Tre Williams -- I'm always a sucker for old-school soul, and this snuck out last year after I finished the 2008 collection. I made a note to remember it for this year.
"¡Happy Birthday Guadalupe!," The Killers with Wild Light and Mariachi el Bronx -- Coming out of left field, the Killers and a houseful of friends combine modern garage rock with Latin influences for this holiday interlude from the sunnier climes.
"Hark the Herald Angels Sing," Aqua Teen Hunger Force -- Distracted humor is this cartoon show's forte, and you'll get vertigo trying to follow the story line between traditional carol and hip-hop outing.
"Deck the Halls," Los Straitjackets -- In which the popular carol meets the Bobby Fuller 4 at the hands of this swinging instrumental combo.
"(I Wanna Go) Surfin' With Santa," The Hollyberries -- Who can resist a little surf music at Christmastime? If anybody can change the weather of the season, shouldn't it be this band's namesake?
"It's You and Me This Christmas," Deni Bonet -- This uptempo rocker depicts a swingin' babe trying to shake off her soccer-mom trappings for a holiday without the rug rats. Hey, that's why God made Disneyland, right?
"Jesus Super Freak," An Ensemble of Lonesome Fellas -- I can't decide whether this goof on Rick James is funny or disturbing. Must be my inner altar boy working on my head.
"Get Your Hump On This Christmas," Earth Wind and Fire with Cleveland Brown -- Cartoon characters singing about holiday sex is somehow not all that seductive, but at least it's funny -- more so since a real Rock 'n Roll Hall of Fame act is involved.
"That'll Be Christmas," Thea Gilmore -- A quintessentially British take on Christmas, right down to the Jona Lewie reference. Now would be a good time to "stop the cavalry," wouldn't it?
"Jingle Bells," X -- Original American punk rockers put their stamp on this classic carol, even if they're a little old for the mosh pit nowadays.
"Mistletoe Kissing," Vibeke -- Another Swedish act takes the power-pop approach to Christmas, with delightful results.
"Punk Rawk Christmas," MxPx -- These guys have been knocking out Christmas tunes for years, and they finally pulled together a full holiday album.
"The New Year," Jimmy Jules -- Going out on a year-end groove, sounds like somebody here has the full collection of Barry White.
No TrackBacks
TrackBack URL: http://www.mistletunes.com/cgi-bin/mt/mt-tb.cgi/271