Fake Yules, various artists (Mistletunes, 2017)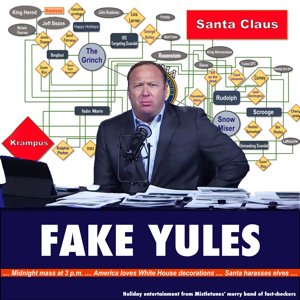 Ever since last year, we've seen a growing movement in the world that rewards people who insist up is down, that black is white, that Scrooge is the hero and Tiny Tim is the villain. Christmas, thankfully, remains Christmas, and the only thing that's fake is the above-mentioned movement that has insisted for years that some unnamed force is prosecuting a "war on Christmas." Here at Mistletunes, we've always been at war with Christmas conformity, and that's why we're always looking farther afield for great alternatives, or at least silly ones. But Christmas itself, well, that's the reason for our gourmet holiday seasonings. Once again, it's time to dig in to our festive musical feast.
"A Christmas Song," Jim of Seattle -- "I'm a doctor, Jim, not a department store Santa Claus!"
"Candy Cane Lane," Sia -- Nice to see that our up-to-the-minute hitmakers have trouble improving on the formula established on 1963's Phil Spector Christmas album, A Christmas Gift To You. But it helps that this song is good enough that it could be played any number of ways.
"Up on the Housetop," The Donnas -- This all-girl band really rocks this classic carol out.
"Christmas Is Love," Tom Dyer and the True Olympians -- Gotta have some 60s-style garage music on the playlist, and the upbeat music matches the lyrics.
"Jesus Christ," The Decemberists -- Nice of this Northwest folk-rock ensemble to emphasize the rock on this fine version of the Big Star classic.
"I Want a Hippopotamus For Christmas," Lake Street Dive -- This aggregation of music school nerds takes this mid-1950s kids song and dances the merengue with it.
"Ding Dong Merrily on High," FRIENDSWITHBENEFITS -- This antique carol benefits from these guys throwing their Depeche Mode records at it.
"Little Saint Nick," Best Coast -- Baltimore's finest put their own stamp on this Beach Boys classic without disturbing the qualities that make this song great.
"Christmas Time Is Here Again," The Weeklings -- These guys, including a former member of Styx, love their Beatles so much that they took this stripling of a Lennon-McCartney song and mashed a couple of other Beatles classics into it for the maximum Merseyfication effect.
"Santa! Cross the Border!," Los Damn Ramblers -- A little border music for the holiday, along with a reminder that Santa can just fly over the wall.
"Feliz Navidad," SUSTO -- Because we're all about diversification, let's take this classic Spanish/English hybrid and set it to a reggae backing. Because there just isn't enough reggae Christmas music.
"Death Might Be Your Christmas Gift," PC Muñoz -- A cautionary tale from a mid-20th century preacher gets set to a jazz-funk backing.
"To Heck With Ole Santa Claus," Jessica Lea Mayfield -- This is a cover of a Loretta Lynn tune, but don't let that fool you, this version of it could have been on the "Blue Velvet" soundtrack.
"Merry Christmas Mr. Gulp Gulp," The Minus 5 -- An amiable rock tune that warns of the dangers of the demon rum, particularly as to how it affects your Christmas celebrations.
"Hollywood Holiday," Dude York -- A thumping travelogue of the famous suburb of Los Angeles during the Christmas season.
"Holiday Jam," Brady Rymer and the Little Band That Could -- A nicely ska-flavored party tune for your holiday parties.
"It's Almost Christmas Time," Karen Bassett -- Power pop with a rock crunch is always appropriate for the holidays, especially when it gets you up to dance.
"God Rest Ye," Kaskade -- The famous house-music DJ knocks out a cool ballad version of this gentlemanly carol that owes an awful lot to Hall & Oates.
"The Pagans Had It Right," Devil in a Woodpile -- A delightful little hoedown that voices the dirty little secret of the Christmas holidays.
"Wish List," Colin & Caroline -- A sweet little holiday boy-girl duet for those of you who are so over "Baby It's Cold Outside." #metoo
"Blue Christmas," Kevin Morby -- For those of you who wondered what this popular holiday song would sound like when played against a drum machine and a Suzuki Q-Chord, wonder no more.
"Incense and Chia Pets," The 60s Invasion -- Yes, I know, if you remember the 60s, you weren't really there. But it's fun to repurpose this psychedelic top 40 hit into a Christmas song, isn't it?
"Wake Up Christmas," Lisa Mychols -- Most people have never heard of Lisa, but I assure you she'll be in whatever rock 'n roll Christmas music history book that manages to be written, especially if I write it.
"Christmas Christmas," Cheap Trick -- Because whatever these Midwest rock gods touch turns to gold, as you'll hear in their new album of Christmas goodies.
"Have a Merry Christmas," Jim of Seattle -- Or else....
No TrackBacks
TrackBack URL: http://www.mistletunes.com/cgi-bin/mt/mt-tb.cgi/1865