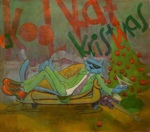 As you probably guessed from reading the title, this is a label compilation of power pop Christmas tunes from 2010. It's a good collection and it's also a charity fundraiser for the
Susan Giblin Foundation
, a central Pennsylvania group that promotes medical care and protection of animals. Power pop obsessives should be warned that some of these songs have appeared elsewhere, like John Wicks' "Star of Bethlehem," "Chris Hillman Christmas" by the Britannicas, "Santa's Calling" by the Sun Kings and "Channukah Guy" by the Goldbergs. But if you don't have those songs, they're all worth having. "Chris Hillman" has that 60s country-rock feel as it takes pokes at Wilco and the Eagles, while the Goldbergs and Sun Kings, sharing members between the two groups, offer their Beatles-inflected songs, and Wicks, the former member of the Records, performs a stately ballad for the holiday. Maple Mars starts things out nicely with "Christmas Time In the City" and the Smith Brothers back them up with "Every Day Is Like Christmas," both mid-tempo classic pop-rock. Parallax Project hopes to catch a girl on the rebound in "All I Want For Christmas (Is a Chance)." Keith LuBrant takes the tempo upward on "The Christmas Spirit," as does Strand on "The Christmas Gifts," the latter borrowing chords from the Romantics' "What I Like About You." Frank Royster's "Christmas Is Fun" and William Duke's "Say Hello To Christmas" round out this collection, and like I said it's a great collection of power pop. Get it from Amazon or the label's
website
. Those who go to the website might still be able to get a free additional disc thrown in,
A Christmas Gift
, which is more of the same power pop/rock Christmas goodies, including both sides of the
Click Beetles'
single, plus songs from the Kavanaughs, Celadore, Penguin Party and, my favorite band name here, Brilliant Fanzine. It's a custom-burned disc, so it's probably not available elsewhere.