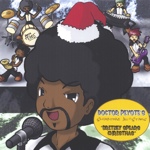 I only stumbled over this a while back, a six-song EP that is a rap appeal to the singing star to come home with the artist behind this recording for Christmas. Well, actually, for Christmas 2006, as I don't hear much about ol' Brit anywhere but the supermarket tabloids nowadays. But not to worry, if Britney don't float your boat, the performers have thoughtfully repurposed the title song as appeals to Jennifer Lopez, Jessica Simpson, Carmen Electra, Lindsay Lohan and Paris Hilton. Yes, that's the other five songs on this collection. They're identical except for the name of the celebrity being appealed to. A good change of pace for your Christmas playlists, as long as you don't think any of these names are past their sell-by date. Apparently, this was repurposed from an EP,
Britney Spears Wedding
, from the same year for holiday consumption. (I was going to say,
"The aughts called, they want their celebrities back,"
but I'm the one who didn't find out about this until now.)