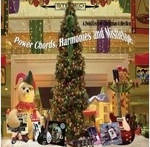 This power pop Christmas collection from 2011 has an international pedigree, as each act's country of origin is given in the liner notes. The US, Britain and Australia are always gimmes, but Italy, Spain, Sweden and Guernsey are also represented. (Yeah, I thought
Guernsey
was just another UK location, but it's not only nominally independent, it's not even part of the EU.) Previously covered tunes include the Britannicas' "Chris Hillman Christmas" and the Click Beetles' "A Christmas Wish." Although no act is entirely from Sweden, Joe Algeri and Friends' "Stockholm Christmas" features Magnus Carlson on lead guitar, he of the recent Phil Spector homage
"Cry Cry Christmas."
The majority of the songs here are originals, although the Decibels present covers of "White Christmas" and "Angels We Have Heard on High," the latter of which is similar to the Triffids' "Gloria," in that both groups medley the classic Them song with the carol. The Jetz also do a serviceable "Father Christmas," the Kinks song, The Lolas give us a nicely rocked-up "Little Drummer Boy," and Guernsey's The Risk revisit The Damned's "There Ain't No Sanity Clause." The Shambles "Warm This Winter" is a great song with a kind of amped-up Everly Brothers delivery, Yeh Yeh's "To All Who Can't Attend" is a nice poppy holiday toast to those who went before us. Spring Collection and Ed James have nice holiday love ballads, "Christmas with You" and "You Make Me Believe," respectively. Jeremy goes all Beatlesque on "Christmas Every Day," while The States channel The Who on "This Christmas." Smodati gives us some Italian power pop on "In tempo per Natale," which I guess is "In Time For Christmas, and Los Immediatos stick to English on "Just Let It Snow," an organ-led rocker. And here's a name I haven't seen for a while: Skid Roper, former partner of Mojo Nixon, gives us a nine-minute "Christmas Mystery," in which the baby Jesus goes missing. The Jetset wraps things up with a bit of
Beatles Christmas record
-style goofing around, followed by the solid rocker "What Can I Say." Another great compilation of independent power pop Christmas music.