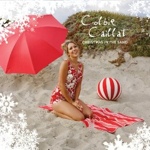 Five years after her single
"Mistletoe,"
Colbie extends that previous release into a full album of Christmas goodies for 2012. With help from some journeyman tunesmiths,
Colbie
does bring us some additional original tunes for the holiday. The title song, as you might expect, takes us to the beach for Christmas, featuring a hint of ukelele in the background and the lyrical image of Santa in a bathing suit hitting the surf. "Everyday Is Christmas" and "Happy Christmas" are pop ballads, and "Mistletoe" wraps up the originals. The rest is covers, with Brad Paisley duetting on "Merry Christmas Baby" and Gavin DeGraw doing the same on "Baby It's Cold Outside" and "The Christmas Song," and serviceable but not remarkable versions of "Santa Baby," "Santa Claus Is Coming to Town," "Silver Bells," "Winter Wonderland" and "Auld Lang Syne." It's more pop than rock, and if you have the single you might be tempted to pass the rest of this by.