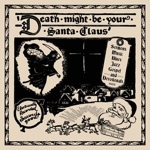 Many folks who come by these parts are hip to this now-twice-yearly musical holiday, but for those who aren't,
Record Store Day
is a great way to encourage traffic into the still-hangin'-in-there independent record stores with exclusive limited one-time-only issues and first releases of stuff that will be generally available afterward. The fabulousness of the event depends on the inventory budgets of the individual stores, of course, but I'm guessing most of the readership still enjoys an afternoon of pawing through the stacks. Three exclusive releases with holiday connections are the disc shown here,
Death May Be Your Santa Claus
, a collection of blues holiday tunes from the 20s to the 50s; a vinyl 45 of "This Christmas" with the original Donny Hathaway on one side and CeeLo Green's 2012 version on the other; and King Diamond's "No Presents For Christmas" on a 12-inch picture disc. There's no track listing for
Death
, so no way of knowing whether there are any rarities on there, but it's on Sony BMG Legacy, so it's likely everything's been previously released. Stop by the website for a list of participating stores and a further list of what those of you who limit your Black Friday sojurns to Kohl's and Best Buy will be paying through the nose for on eBay.