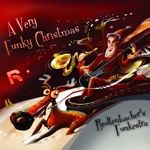 This is one of those EP's that owes its life to modern technology.
The players on this record
punted the album back and forth over the Internet across international borders until it was ready, willing and able to be heard for Christmas 2012. They did everything but tweet it to each other. The result? Well, if you've been unable to track down a copy of the much-maligned
Salsoul disco Christmas album
from the 1970s, believe me folks, this all-instrumental five-song outing will do. It's extremely well played and it sounds great, but I know a fair number of people out there never go near a music player without their disco-filtering helmet on, so this isn't for those folks. Slap-bass aficionados, on the other hand, will get an early Christmas gift. They give us "Deck the Halls," "Hark the Herald Angels Sing," "Ding Dong Merrily on High," "We Wish You a Merry Jingle Bells Christmas" and the title song, which keeps the spirit of the more familiar carols alive without sounding like any of them.