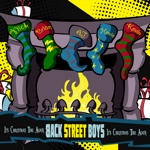 For those of you who haven't noticed,
the group
for whom the term "boy band" was coined re-formed a couple years ago and has been touring and recording, and for 2012 they tossed us this nice little confection, a solid hit radio number, that one could almost call rocking. The Boys had been the only one of the 90s boy bands to avoid doing a Christmas album back in the day, although they did previously have a Christmas ballad,
"Christmas Time,"
from 1999. This new song is a little too poppy for rock, but you wouldn't actually be embarrassed to have this on your mix disc.