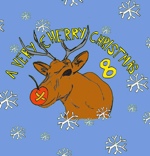 This Manchester label has been like clockwork in putting out a new collection every year for eight years. This 2012 version kicks off with Otalgia's "Dear Santa," in which a brief snippet of "Silent Night" gives way to a punkish letter to the jolly elf with a pessimistic outlook. Chandler D Obelisk performs "Away in a Pret a Manger," what appears to be a satiric poke at a narrator who thinks he's being imposed upon to help a needy person at Christmas time. Laura Skilbeck channels
"Friends"
character Phoebe with her song "Films About Christmas," Steveless offers "Madvent," a profane parody of "Good King Wenceslaus," and the Paraffins Featuring Chloe Philip give us "Christmas in Glasgow," a synth-pop complaint about a holiday "fiasco, with chicken from Tesco." The Drain on the Balcony's "A Christmas Trilogy" is a medley of three songs, including another parody of "Wenceslaus," Float Riverer do an acoustic, non-Dickens oriented "A Christmas Carol," and Partly Llama also stay acoustic for their "Running Back For Christmas." The Pocket Gods, veterans of numerous Cherryade comps, offer two tunes, a punked-out "Silent Night" and their own "Jesus the Time Traveler," a dirgy, fuzzed-out plea for salvation. The Low Countries offer "Carry On Christmas," in which St. James is looking down on the proceedings from heaven eating crackers while the vicar prepares a holiday dinner, or I think that's what they're on about, anyway. Collider Featuring Jason Dixon presents "Little Drummer Boy" as a drone, throwing in "Peace on Earth" as well, and Lance Romance sings about "The Boy Who Saved Christmas." Cherryade is only making this
available from their website
, and they've only pressed 100 copies, so it's entirely possible this is sold out already.