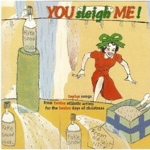 Originally a benefit record for
Hale House
, which cares for drug-addicted and HIV positive babies, this 1995 album is mostly cover versions by Atlantic artists. It's very listenable, especially if you enjoy alternative rock. Original tunes are Juliana Hatfield's "Make It Home," Donna Lewis's "Christmas Lights" and Everything But the Girl's "25th December." Jill Sobule does great justice to Robert Earl Keen's "Merry Christmas From the Family," Mary Karlzen is the first female singer I know of to cover "Run Rudolph Run," Collective Soul puts a Bo Diddley spin on "Blue Christmas," Tori Amos does her ethereal thing on a solo piano version of "Little Drummer Boy" and Victoria Williams can't be mistaken for anybody else on "Have Yourself a Merry Little Christmas." A worthwhile collection for a rockin' Christmas. I made a point of promoting this to the front page because it appears that Amazon still makes this album available on CD through its custom CD-R burning service. Click the cover to grab it. No download available, as far as I know.
UPDATE
: I just stumbled on a Rhino collection from 2004 called
Not Another Christmas Album
that has part of
You Sleigh Me's
playlist. It includes the songs by Tori Amos, Collective Soul, Mary Karlzen, Everything But the Girl and Donna Lewis. It adds other songs by Willa Ford, Pretenders and the Ramones. It's out of print, but you can get it from 3rd parties on Amazon.