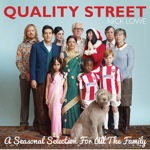 UPDATED POST.
I'm guessing some of you know
Nick
, but for those who have let him slip off their radar, well, he's way different than he was in the Brinsley Schwarz, Stiff Records, Rockpile or 80s solo days. He's adopted a style that straddles country, old-school rock, blues and even sometimes pop jazz, with him crooning Nat King Cole-style over top. If you've been listening since the mid-90s, this will be no surprise, and thus you already know what the sound of this album is going to be. But as the comments at the YouTube site reveal, a lot of folks were hoping for a Rockpile reunion or a Stiff Records revival instead, and folks, this ain't that. As sedate as the album is compared to all that, it's still an excellent piece of work, just not a power pop masterpiece. Nick provides three new originals, including a jazzy ballad co-written with Ry Cooder called "A Dollar Short of Happy," which could exist happily on one of Nick's recent non-holiday outings. Nick also writes the bouncy "Christmas at the Airport" and the stark acoustic ballad "I Was Born in Bethlehem." Ron Sexsmith contributes a new original, "Hooves on the Roof," in which Nick exercises his higher vocal register and his snapping fingers, and Nick adds such out-of-copyright favorites as the folky "Rise Up Shepherd," the rockabilly-infused "Children Go Where I Send Thee," the kiddie favorite "The North Pole Express" in a vintage rock treatment, and a Huey "Piano" Smith & the Clowns arrangement of "Silent Night." Covers of more recent vintage include Boudleaux Bryant's "Christmas Can't Be Far Away," a hit for Eddy Arnold (!), Roger Miller's "Old Toy Trains," a samba version of Ross Bon & the Mighty Blue Kings' "Just To Be With You (This Christmas)," and the album closer, Roy Wood's "I Wish It Could Be Christmas Every Day," stripping away the Spectorisms in favor of an arrangement that owes equal parts to Nashville pop and Jamaican ska. I'm a Nick Lowe fan, so I don't want to recommend this too highly to those who prefer to hold me to the Mistletunes motto of rockin' Christmases for all. Nevertheless, I suspect I'm going to be listening to this a lot on the holidays. Order from Amazon (CD & LP) by clicking the cover, or go to
Yep Roc's site
for package deals that include swag like snow globes, greeting cards, wrapping paper and such.