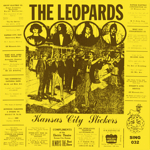 This is one of those semi-legendary songs that people occasionally ask about, that I've known about for at least a couple of decades, but its impossible rarity tended to confound even The Great And Powerful Google, at least until I stumbled over it again while recovering from a festive holiday dinner.
The Leopards
were a Kansas City, Kan. band in the 1970s that personally pressed and released their own vinyl LP of their original songs, around about the time that the band
Shoes
was doing the same thing in Illinois, kicking off the true beginnings of indie rock. Shoes crossed over to the major labels and the Leopards did not, but when you hear this song it's hard to figure why; on this song, at least, they did a more than passible impression of the Kinks doing a holiday song, and before the Kinks themselves did
"Father Christmas."
This song was the only holiday-themed tune on the album, and it's a keeper. They went on to release a couple more singles and albums, none of which made much of a mark. The original album,
Kansas City Slickers
, was pressed in an edition of exactly 1,000 copies in 1977;
Sing Sing Records
of New York put out a limited vinyl reissue in 2011, for which there is a listing on Amazon. Best price at this writing was $99 for a copy of the Sing Sing version; best not to ask about the price of one of the original 1,000 copies. Whether there is an available download of the entire album I will leave to the individual's resourcefulness. Listen here.