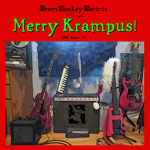 This
Seattle-based record label
rounded up an elpee's worth of toonz from its label artists and friends to benefit the charity MusiCares for 2013.
This is the album
that contains that fabulous tune "No Lou For Christmas" by Tom Dyer and His Queen's Pajamas that I posted several days ago, a lovely tribute to the late Lou Reed that affectionately pilfers several Lou/Velvets riffs as well as "The Night Before Christmas." Dyer returns later with "Christmas (It's Just Around the Corner)," a poppier bit with female backing vocals. The OF goes kind of low-budget free-jazzy with its double cover of "I Saw Mommy Kissing Santa Claus/Snow Miser," and AAIIEE provides the semi-title song, "Krampus Is an Evil Man," in which the story of the malevolent Christmas being gets told in a garage-inspired manner. Opening tune "Here We Are (On Christmas Day)" is by the Elf-Tones, a shambling folk-pop performance with ensemble vocals. Henry Boy Jenkins goes semi-Beatlesque with the piano-led "Love For Christmas," The Goblin Market breaks out the harmonium for "In the Bleak Midwinter," Tom Nook goes all 1977 lo-fi for "One Last Christmas Eve," Toxic Socket do a metal take on "The Greatest Toy in the World," and the Deadlies go more 70s hard rock on "Winter Wonderland." Three Ninjas & The Weird Old Tricks do a kind of Tom Waits arrangement on "Joy and Good Will," Richard & Xander Stuverud break out the toy piano on the ballad "Christmas Tree," Jason Rubin's "Out On Your Motorcycle" is a nice way to see the Christmas lights, assuming it's not too cold and you've got your leathers on, the Queen Annes do a slapdash "I Wish It Could Be Christmas Everyday," the Green Monkey Christmas Chorale do a slapdash-snarky choral arrangement of "It's Christmas (And I'm Jolly)," and the King County Queens go all the way back to late 60s psychedelia to present "Drop the Silver Ball," a slice-of-life tribute to New Year's Day. Lots of good stuff on this album,
grab it from Bandcamp
.