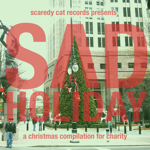 This Charlotte, N.C.,
record label
gathered together some Christmas performances from its artist roster to create this album whose purchase benefits UNICEF. The title suggests some downbeat views of the holiday, and the Nuns' "Blood Red Snow" certainly fits that first impression, as does Mineral Girls' "Merry Christmas, I Hate Your Guts," Victor Anderson's sardonic monologue "Thankful Holidaze," Dollar Signs' "Selfish Christmas," Billy Mack Collector's "Drunk With Marty" and a cover of "River" by Sinai Vessel. Rusty Cotton's "Happy Christmas, Merry New Years" is likewise downbeat lyrically over acoustic guitar and droning organ, and "Happy Birthday Jesus" by Wally Tusk and the Film Club is a fairly drunken and scatological look at the holiday. More conventional fare gets a downbeat twist, as in Radiator Hospital's drone-y "Christmas Island" and a cynical take on "Oh. Christmas. Tree." by Bless These Sounds Under the City. Dollar Signs get a second bite of the apple in the album opener "Caroler," in which the singer describes a semi-sincere outing singing Christmas carols that has a little more whimsy to it (and a bad word in one line). This is indie rock with punk attitude, but whether you like this depends on how much of a sense of humor you have about the dark side of the holiday, as a few of these songs are fairly unrelenting. Many of the songs on this collection snuck out individually in recent weeks, but the actual
album download
only went live Christmas day on Bandcamp.