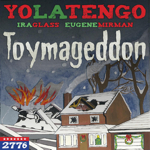 This 2013 rocker is a hysterical number by the
long-running indie-rockers
, aided by comic
Eugene Mirman
and NPR stalwart
Ira Glass
, and it's part of a comedy album,
2776: A Millenium Of American Asskickery
, set to be released next summer. Meanwhile, this has been released as a single. It's a riff on "Dance of the Toy Soldiers" transferred to the modern sci-fi blockbuster day, where the toys come to life and enslave humans, all to the not-quite-familiar sound of Yo La Tengo's buzzy, lo-fi accompaniment. "It came down to Toys or Us," the song sadly concludes, and don't worry, there are plenty of other great lines in this song. Destined to become a Christmas classic in the same way that the
"WKRP" turkey episode
has become a Thanksgiving Day classic. Enjoy, and click through to grab it for yourself.