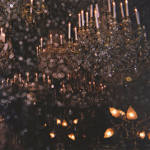 Kozelek, member of such bands as
Red House Painters and Sun Kil Moon
who also works solo and has an
acting career
to boot, is a rather idiosyncratic performer, having done folky reinterpretations of AC/DC tunes and indie reinterpretations of John Denver among many other projects. For his first Christmas album in 2014, he's done what for him is a straightforward acoustic folk rendition of mostly standard Christmas carols, featuring his baritone vocals with occasional harmonies. No rhythm section hijinks or reimagined arrangements here, just very sincere takes on all these familiar songs. He departs from the antique repertoire in his choices of Chrissy Hynde's "2000 Miles," Greg Lake's "I Believe in Father Christmas," "The Christmas Song (Chestnuts)," and "Christmas Time Is Here," the "Peanuts" classic, including the Charlie Brown & Linus extended rap in the middle about being depressed at Christmas. It's pretty much the only departure from the form of a folk Christmas album, well done on its own terms but not much in the way of rock or rock attitude. Historical note: A Kozelek recording from 2001,
White Christmas Live
, is not actually a Christmas collection, but consists of Kozelek's solo and band songs. Another album from 2012,
Little Drummer Boy
, only features an ethereal take on that song in the way of Christmas music; the rest is non-holiday.