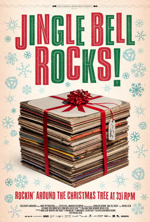 "Jingle Bell Rock," the long-awaited documentary about Christmas music obsessives, is
out on DVD
for
Record Store Day
, the Black Friday edition. Presumably it will be available everywhere eventually, but go support your local record store and grab it there. Among the other RSD vinyl issues of interest to Christmas freaks is
"Imagene Peise -- Atlas Eets Christmas,"
a Flaming Lips compilation originally snuck out in 2007 on CD and now out for 2014 on vinyl for the first time. No downloads, although Yoko Ono joins the Lips for "Happy Xmas (War Is Over)," which is not on this compilation but is downloadable. Seth McFarlane of "Family Guy" fame has a vinyl version of this year's
"Holiday For Swing,"
which is the only mention you'll see of it here because swing. There are also vinyl issues of Joey Ramone's
"Christmas Spirit ... In My House"
and Run DMC's
"Christmas In Hollis,"
the
Phil Spector Christmas Album
and
This Warm December Vol. 1
, Wham's
"Last Christmas,"
and Ben Kweller's 2014 song
"It Ain't Christmas Yet,"
available only on vinyl, no download.