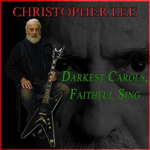 I am seriously remiss in overlooking, until my friend Rich Lewis pointed it out to me, that Christopher Lee --
the
Christopher Lee
, actor in "Lord of the Rings," "Star Wars," multiple outings as Dracula, recurring guest in the British series "The Avengers," and more -- has a parallel career as a heavy metal vocalist and for 2014 has released his third Christmas single in a row. Did I mention he's 92 years old? I'm afraid I like the idea of this more than the reality, but then high concepts tend to play out that way. For 2012, he started the string with
A Heavy Metal Christmas
, with fast metal performances of "Little Drummer Boy" and "Silent Night." In 2013,
A Heavy Metal Christmas Too
featured "Jingle Hell," which is "Jingle Bells" with new, angrier lyrics, and the non-holiday "My Way," about which there's no question. This year, 2014, it's "Darkest Carols, Faithful Sing" (click the cover), which is "Hark the Herald Angels Sing" with more debauched lyrics, accompanied by an extended vocal version and an instrumental of the same song. How you feel about the singer is probably going to color how you feel about the songs, but if you're doing a theme playlist featuring "Star Wars" or Tolkien-related stuff, one of these tunes will fit in just fine.