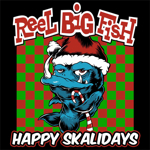 Remember when amped-up white-kid ska bands
were a thing?
Good times. Back in the last century,
these guys
had a version of "Mele Kalikimaka" on one of those
Kevin & Bean compilations
, but it apparently took them until 2014 to strike out on their own with a Christmas EP. They kick off promisingly with "Skank For Christmas," in which the singer insists he was only talking about the ska dance, really, and then they put the pedal to the metal on the last version of "Grandma Got Run Over By a Reindeer" you'll ever need to hear. An original, "Whatever U Celebrate," is a year-round party song that will set Bill O'Reilly's teeth on edge with its greeting of "happy holidays." "Lickle Drummond Bwoy" is the ska approach to the "Drummer Boy" song, "Carol of the Beers" has them singing the word "beer" in an a capella arrangement, and things wrap up with an alternately stomping and skanking "Auld Lang Syne." Loud, drunk and upbeat actually is a good way to go through life, son.