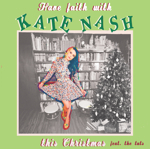 Kate Nash,
British singer and songwriter
with a snarky outlook rather like Lily Allen, put out this five-song EP in 2013, throwing a song to British all-girl band
The Tuts
in the process. The reason for this seasonal release appears to be the song "I Hate You This Christmas," which is labeled "explicit" in the playlist for good reason but is still rocked-out great fun, giving an ex the old thumb to the nose. The song "Faith" is a mostly group vocal song whose couplet "Somehow I've kept it together/But I'm at the end of my tether" describes the whole thing perfectly. The Tuts' contribution, "Christmas Is In the Air," snaps back and forth between sweetly melodic and Phil Spector at double speed as the vocalist states "all I want for Christmas is a guitar," and pensive renditions of classic carol "Silent Night" and the semi-obligatory "Auld Lang Syne" wrap things up here.