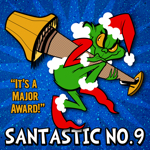 Mixing and mashing their way through the holidays are the various DJs and Pro Tools jockeys who help us get a different look at the holiday by cutting and pasting the familiar into something new. And appropriately enough, Mojochronic kicks off
"Number 9"
with "Yuletide Beatles," doing what Giles Martin did with
The Beatles Love
but emphasizing selections from the Fabs' Christmas flexidiscs in honor of the holiday. Mojochronic returns later with "Walking In LA Winter Wonderland," in which he builds an 80s Christmas song out of the Missing Persons' hit and Jean Dixon's version of the popular carol. Voicedude presides over a shotgun marriage of Mariah Carey and AC/DC on "You Shook Me All I Want For Christmas" and puts Smokey Robinson over Plain White T's on "Hey There, St. Nicholas!" Rapper DMX once did an off-the-cuff version of "Rudolph the Red-Nosed Reindeer," and dj BC lays it over the Burl Ives version here, then comes back with "Forgot About Merry," in which the Staples Singers meet an array of Christmas villains. ATOM offers "A Glimpse of James' Jingle Socks," in which James Brown is reimagined as a chill artist, and "Santa Ist Das Bein Stalker," in which a German guy snarks on Santa while various grooves play behind him, and I don't have any idea where that came from. DJ Schmolli keeps the Germanic groove going on "Weihnachtszeit-Song," and Divide and Kreate has Peggy Lee doing "Little Breakbeat Boy," in which various hip-hop beats accompany the "Little Drummer Boy." DJ M.i.F takes the "remix classic jazz age singers" craze of a few years ago a few steps further, going crazy on Ella Fitzgerald and Bing Crosby with "Children Winter Wonderland." DJ Morgoth offers "The Power of New Divide," in which Linkin Park is uneasily joined to Frankie Goes to Hollywood, and "Carol of the Tolling Bell" is G3RSt's combination of Metallica and Shawn Lee's Ping Pong Orchestra. And no, Metallica aren't playing "Carol of the Bells" on this mashup. Mashups aren't for everybody, of course, but for those who like to see familiar themes subverted, especially at the holiday,
Santastic
has become a great holiday tradition.