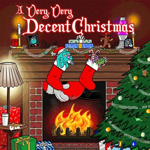 This is actually the
second Christmas mixtape
compiled by Diplo and
Mad Descent
, the first being called, wait for it,
A Very Decent Christmas
, from 2013. Of course, I'm just getting hep to this for 2014. Both are still streaming from Soundcloud, but click the cover to buy this one from Amazon, and
click here
to get the previous edition. Jessi Slater & Wuki kick things off with "Rock Them Bells," a heavy-bass version of "Deck the Halls" with the title chanted repeatedly over it. Diplo & Alvaro featuring Kstylis offer "6th Gear (Bethlehem Edition)," a holiday remake of the artists' existing song. Snappy Jit goes to the dancefloor with "Lil Drumma Boy," Aquadrop offers to "Troll the Halls," another deconstruction of "Deck the Halls," and Splurt Christmases up his "#OMW25YG" with a taste of "Frosty the Snowman." DJ Fire's "Twerkith On These Bells" is a fairly minimalist performance, 4B offers yet another clattery "Deck the Halls" take on "Drop It Again (Xmas Version)," Wiwek's "Totem Night" drops the beat on "Silent Night," Alizzz offers a deconstructed slow jam over "Jingle Bells" on "What If (Jingle Edit)," and Davoodi's "The Nutcracka" needs very little elaboration from the likes of me, in that it's the hip-hop take on the Tchaikovsky classic. Though I'm far from a hip-hop expert, this stuff is pretty listenable to me.