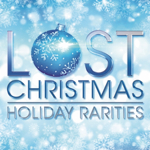 One would have to have been a Chuck Berry expert to extend his Christmas heritage beyond
"Run Rudolph Run" and "Merry Christmas Baby,"
the two sides of his one and only officially released Christmas single. Turns out Christmas was briefly on his mind sometime in the mid-1960s, when he recorded this bluesy ballad that only found its way to the public via
You Never Can Tell: The Complete Chess Recordings 1960-1966
. And then, another box set,
Have Mercy: The Complete Chess Recordings 1969-1974
, yielded another blues, this one a bit more uptempo, titled "Christmas" on the box set, but Google searches turn it up under the title "My Blue Christmas" as well. I only discovered them via this 2014 compilation,
Lost Christmas Holiday Rarities
, but now you can grab them too.