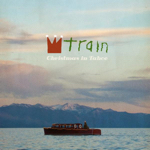 This band courted controversy from the "sell-out" crowd when their original Christmas tune "Shake Up Christmas" became the theme of a Coke ad campaign a few years ago.
They're back
in 2015 with a full album, CDs at Walmart and Amazon only and downloads via Amazon. This is pretty much what you would expect from a popular modern rock band, mostly covers except for three originals, the aforementioned "Shake Up Christmas," the midtempo "Wait For Mary, Christmas" and "Christmas Island," a nice rocker about ditching the snow for the sunshine that incorporates the album title in the lyrics. The closest thing to a surprise on the album is their cover of Tracy Thorne's "Tinsel and Lights," otherwise the familiar songs are mostly what you would expect a rock band to choose for their Christmas album: "Happy Xmas (War Is Over)," the Band's "Christmas Must Be Tonight," Joni Mitchell's "River," Elvis Presley's "Santa Bring My Baby Back to Me," Slade's "Merry Christmas Everybody," the Pretenders' "2000 Miles," Stevie Wonder's "What Christmas Means to Me," and Donny Hathaway's "This Christmas." Fairly conventional versions of "O Holy Night" and "Mele Kalikimaka" round out the playlist. Train fans are ecstatic about this, based on the Amazon reviews, and while I'm not exactly overwhelmed, casual music fans will find this listenable.
UPDATE
: Stubby e-mails to say he thinks I let Train off too lightly on the sell-out front for "Shake Up Christmas." In his words, "That makes it sound like they wrote the song and Coke said
'Hey, we like that. Can we use it?'
It was ALL Coke from the get-go. They had the idea, they essentially had the music and chorus they wanted Train to use, and they asked Train to make a song for their holiday campaign using the musical and lyrical guidelines they provided. Coke should really be listed in the writing credits for that song." He makes a good point.