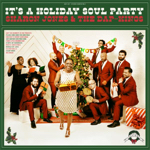 This
old-school soul orchestra
was already on the Christmas tip with
"Ain't No Chimneys in the Projects"
and a swinging take of
"White Christmas"
that has been on YouTube for a couple of seasons. Both songs are here on this 2015 album, the title of which will never in a million years get them in trouble with the Federal Trade Commission for deceptive packaging. They get into it almost from the start with "8 Days of Hanukkah," and you will be dancing all eight of those days to this song. "Just Another Christmas Song," which was on a vinyl single last year, has a nice slinky beat. Their "Silent Night" is an after-midnight blues take on the song, and "Big Bulbs" is about those holiday lights in the window. That's their story, anyway. "Funky Little Drummer Boy" is, again, exactly as advertised, and they put everything into what is a standard arrangement for "Please Come Home For Christmas." Sharon sits out for a few songs here to feature the Dap-Kings on the instrumentals "God Rest Ye Merry Gents" and "Silver Bells," and "World of Love" features one of the Dap-Kings on vocals, couldn't track down any info but I'm guessing it's Binky Griptite at the mic. Vinyl freaks act fast, as there's colored vinyl versions of this along with CD and downloads. So far, this is the top of my 2015 Christmas playlist.