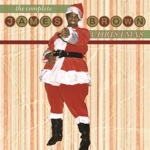 This 2010 two-disc collection of James Brown's 1960s holiday music released on King Records is the perfect historical document for the Godfather's classic Christmas sides, three albums and a couple of non-LP singles, plus single versions of album cuts. (CD's are out of print, but a full download remains available. You can distill all of this into a single-disc collection,
James Brown's Funky Christmas
. Also, word has it that the original albums will be out on vinyl for the 2015 holidays.) The first album was 1966's
James Brown and His Famous Flames Sing Christmas Songs
, with James credited as co-writer on the majority of songs, including "Let's Make Christmas Mean Something This Year," "Sweet Little Baby Boy (Parts 1 & 2)," "This Is My Lonely Christmas (Parts 1 & 2)," "Signs of Christmas" and "Merry Christmas I Love You." James also did two versions of "The Christmas Song (Chestnuts)," "Please Come Home For Christmas," Billy Ward's "Christmas In Heaven" and "Merry Christmas Baby." In 1968
A Soulful Christmas
introduced James' all-time classic "Santa Claus Go Straight To the Ghetto" and also featured the title song, "Santa Claus Santa Claus," "Santa Claus Gave Me a Brand New Start," "Christmas Is Coming," "Let's Unite the Whole World at Christmas," "Tit For Tat (Ain't No Taking Back,)" and the instrumentals "In the Middle," "You Know It," and "Believers Shall Enjoy (Non Believers Shall Suffer)." Oddly, "Say It Loud (I'm Black and I'm Proud)" was on this album as well. The third album, 1970's
Hey America
, was written almost entirely by Brown associate Nat Jones, and the title song was a kind of holiday-themed protest number with an almost rock-styled rhythm. Also here are the ballads "Merry Christmas My Baby and a Very Happy New Year," "A Lonely Little Boy Around One Christmas Toy" and "Santa Claus Is Defiinitely Here To Stay," the driving "Go Power At Christmas Time," the funk-styled "Christmas Is Love," and the oddity "My Rapp," a letter to an estranged lover. For 1969 James released a single, "It's Christmas Time (Parts 1 & 2)," a ballad on which James also played organ, and the other singles included here were alternate versions of album cuts. The title of this complete album is misleading, however, as James released
Merry Christmas Album
in 1999, with 11 more songs, none repeated from the past.