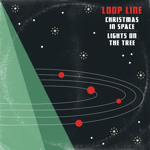 This Minneapolis group was on the Christmas tip last year with
"Lights on the Tree,"
and for 2015, a remixed version of that song is the B-side of this pop-rocker that seems to be about aliens arguing with Earthlings about the nature of Santa Claus. A great number, grab it from
Bandcamp
or Amazon. And check out the lyric video.