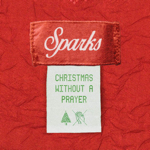 This
classic American duo
, which became the toast of England in the 1970s thanks to such albums as
Kimono My House
,
Whomp That Sucker
and
Angst In My Pants
, is still with us to this day, having just completed the
FFS collaboration
with Franz Ferdinand (which you should own). This 2015 single is a dramatic ballad with orchestra about loneliness that breaks out into a gospel number about halfway through. I've always loved these guys and this is a good example of their work. They previously sang about the holiday in 1974 with
"Thank God It's Not Christmas,"
a more rocked-out number from their best-known album.