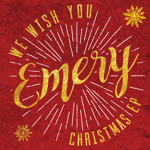 This "
post-hardcore band
from Seattle," per Wikipedia, has a new Christmas album for 2015, and they're giving it away free until Dec. 24. (You have to go to their
Facebook page
to get the offer.) What do you get for your no-nickel? Eight songs, including what appears to be three originals: "The Last Christmas," billed as "live from the bus," a lost-my-love ballad; "(Ho Ho Hey) A Way For Santa's Sleigh," a harder rocker; and "Jesus Gave Us Christmas," a more religious ballad that also was on Tooth & Nail's
Happy Christmas Vol. 5
. A studio take of "O Little Town of Bethlehem" dispenses with the rhythm section but manages to be upbeat anyway, band member Toby Morrell provides two acoustic guitar takes on "O Come All Ye Faithful" and "Away In a Manger," and Matt Carter, with the help of duet partner Melanie Studley, sings "Oh Come Emmanuel" and "We Wish You a Merry Christmas." Not a lot of rocking going on here, but the originals are worth the whole album.