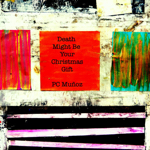 We had this artist a couple years ago with
"The Angel Gabriel,"
and this time around he gives us this slow funk groove with lyrics inspired by a sermon by the Rev. A.W. Nix, one of those early 20th century preachers who put their sermons on vinyl records, the podcasts of their day. Very cool and distressingly short, I could listen to this for a good while longer. Grab it from
Bandcamp
. Oh, and a little history lesson is attached below.