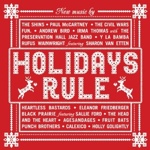 Given the label, it's a lead-pipe cinch you'll be running into
this 2012 collection
at Starbucks shortly. It's a reasonably hip collection featuring some familiar faces along with some alt-rock and alt-country up-and-comers. Paul McCartney shows up with "The Christmas Song (Chestnuts)," from the sessions with Diana Krall that created his
Kisses on the Bottom
crooner disc, and he gets covered by the Shins in a heavily remade but still cheerful-sounding "Wonderful Christmastime." While we're in the crooner mode, Rufus Wainwright duets with Sharon Van Etten on "Baby It's Cold Outside," and Holly Golightly does a retro "That's What I Want For Christmas." In the Americana vein, Black Prairie, the Decemberists' side project, does a rootsy-sounding "(Everybody's Waiting For) The Man With the Bag," Calexico performs "Green Grows the Holly," the Punch Brothers break out the banjo for "O Come O Come Emanuel," the Heartless Bastards take on "Blue Christmas," Fruit Bats go straight country on "It's Beginning to Look a Lot Like Christmas" and Civil Wars gives their dolorous delivery to "I Heard the Bells on Christmas Day." Y La Bamba goes bilingual as they turn "Mr. Sandman" into "Senor Santa (Mister Santa)," Irma Thomas takes "May Ev'ry Day Be Christmas" to church, AgesandAges gives us a bit of rock on "We Need a Little Christmas," the band fun. mashes up Spector, old-school pop and modern rock on "Sleigh Ride" and Eleanor Friedberger of Fiery Furnaces turns Elvis Presley's "Santa Bring My Baby Back To Me" from a rocker to a jazzy drone about halfway through. The new year gets its due from The Head and the Heart on "What Are You Doing New Year's Eve" and Andrew Bird on a banjo-and-fiddle "Auld Lang Syne." This is a fairly eclectic collection, although heavy on the alt-country, but the young and hip are likely to go for this based just on the artist roster.
UPDATE
: Howard Cogswell writes to note that the UK version of this collection is called
Christmas Rules
. Whether that regional difference is war-on-Christmas worthy I will leave to the readers. My take is that the collection includes two New Year's songs, so the American title is more accurate, although adding a Hanukkah selection would have made that point more obvious.