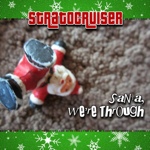 Even after wrapping up all their previous holiday tunes
in an EP last year
, Stratocruiser presses on for 2012 with this crunchy rocker. The band calls this a sort-of sequel to "I Saw Mommy Kissing Santa Claus," in which the guy whose significant other was snuggy with Santa gets a little perturbed and declares "we're through. Not me and her -- me and YOU!" Great rock track, might remind some of Cheap Trick a little bit. And it's free for you and me -- click the cover art.
UPDATE:
Link had limited functionality, according to the band;
here's an updated link
.