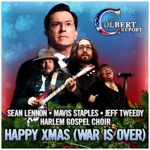 Another of Stephen Colbert's week of Christmas carols, which are all available on iTunes and benefit Rockaway Waterfront Alliance. In this case, the son of the song's original author joins the Staples Singers star and her most recent producer, the leader of Wilco, in doing a fine homage to the original performance, even including the Harlem Gospel Choir on backups. I previously mentioned Elvis Costello and Diana Krall, and there's also a version of
"Good King Wenceslaus"
featuring Michael Stipe and Mandy Patinkin. I'd embed the video, but I fell for that once already;
Comedy Central
clearly doesn't have the embed thing worked out. From 2012.