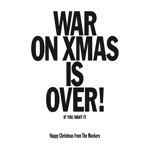 Ah,
somebody
finally took aim at the phony-baloney
War on Christmas
. For 2012, the Mockers unleash
this power-pop brickbat
at the cable news and talk radio hucksters who seek to divide us every holiday. The chorus is a fabulous rejoinder to all that cynicism, and the fact that it rocks out makes it even better. And bless 'em for that cover art, too. Flip side is
"(What's a Better Present) At Christmas Time,"
and boy do these guys like wordy titles, but this is another gem, a slightly slower tempo with a taste of "Please Please Me" in the chorus. Grab both of these songs together immediately from
Bandcamp
, or individually from Amazon or iTunes. Only Bandcamp has the great John & Yoko parody art, however.
UPDATE
: Seth Mocker of the band informs us that iTunes didn't like the parody art because it didn't clearly show the name of the song and thus might sow confusion. One would have thought the only online outlet for Beatles material might have gotten the joke....