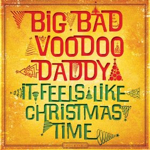 BBVD
is one of those big horn bands that came out of the mid-90s "swinger" subculture (no, not
wife-swapping
, think the
movie
, more like
Rat Pack
worship), and these guys were on the Christmas tip early, with their 1997 EP
Watchu Want For Christmas?
(Note collector prices.) They recycled the holiday songs from that disc onto their 2004 collection
Everything You Want For Christmas
, and now they're back for 2013 with a third collection of holiday songs. In the past, there was some implied crossover connection between pop, rock and big band; this time around, the name of the record label, given in the headline, should be considered definitive. This is the kind of Christmas album a large horn-led band would have made in 1959, a pop jazz collection. The only difference is that in those days, they would have never covered "Run Rudolph Run," here jazzed up to a fare-thee-well, and "Christmas Is Starting Now," which originated with the
"Phineas and Ferb"
show on Disney Channel and gets the swing band treatment. "You're a Mean One Mr. Grinch" isn't from that time either, but it really lends itself to a jazz band treatment. The title song is a band original, a jazzy ballad. "Jingle Bells" gets a bit of 1950s-style vocal group schmaltz layered on top of the jumpy arrangement, "We Three Kings" is done as an instrumental in a sort of New Orleans march, and they stay in the same city for "Winter Wonderland." "Santa Claus Is Coming to Town" and "Rudolph the Red-Nosed Reindeer" are taken at deliberately slow tempos, the latter getting the full vocal group intro about Dasher and Dancer, etc. You have to buy from Amazon to get the two bonus cuts, "What Are You Doing New Year's Eve" and "Auld Lang Syne." Not really part of the Mistletunes rockin' Christmas universe, but it's irreverent enough, even in its retro shoes, to give your holiday that extra celebratory kick.