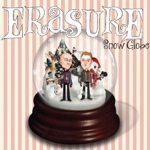 This old-school
synth-pop duo
was previously on the holiday beat with their 1988 single
"She Won't Be Home (Lonely Christmas),"
backed with "God Rest Ye Merry, Gentlemen." They've steered clear of the holiday from that day until 2013, with this new 13-cut collection, which doesn't include the two previous songs. No surprises in sound if you've listened to
Erasure
before, it's the same all-synth orchestration over pop, rock and R'nB beats applied to a baker's dozen of songs that include originals and familiar covers. And at least one unfamiliar cover: "Sleep Quietly" is better known as "Sleep Quietly My Jesus," written by Ruth Heller, but according to the Internets has only, until now, ever been performed by classical crossover singer Kathleen Jenkins in 2012. Likewise, the Great and Powerful Wikipedia has
Ruth Heller
as a Canadian children's book author with no songwriting credits. Oh well, a mystery for the comments section. The electro-pop version of "The Christmas Song (Chestnuts)" is alone worth the entire album. Antique carols get their futuristic takes with "Gaudete," in the original Latin, "Silent Night," "It Came Upon a Midnight Clear," and "In the Bleak Midwinter." They also give soft ballad arrangements to "White Christmas" and "Silver Bells." The rest are originals, starting with "Bells of Love (Isabelle's of Love)," a plea for love on the holiday; "Make It Wonderful," a minor-key request for reassurance; the non-holiday dance-floor anthem "Loving Man"; the Three Wise Men allegory "Blood on the Snow"; and "There'll Be No Tomorrow," another uptempo number recalling the classic Erasure sound, this one a holiday come-on to a lover. Good stuff, especially for you SiriusXM
"1st Wave"
fans. A club remix of "Gaudete" is also on offer, though it appears to only be in the British market for now.