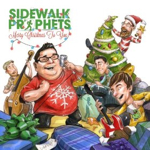 This Nashville-based
Christian rock band
only has a few albums out, but for the 2013 holiday season they've chosen to make one of those albums a Christmas project, and good on them for it. Leaving aside the religious aspect,
these guys
are a contemporary pop-rock band with a commercial radio sheen to their sound, and they've put together a highly listenable collection of originals and covers. Needless to say, most of the originals press home the religious reason for the season, like disc opener "What a Glorious Night," the piano ballad "Hey Moon," the almost-rockabilly "Merry Christmas To You," the stately march "Hope Was Born This Night," and the sprightly closer "Because It's Christmas." The midtempo rocker "Give Me Christmas" is a love song to the holiday, and is probably the best of the originals. As for the covers, they do typical slow takes of "Silent Night" and "What Child Is This," the standard pop ballad take on "Have Yourself a Merry Little Christmas" with the original third verse, although they slip in "If the Lord allows," a very countrypolitan take on "Holly Jolly Christmas," a nice "White Christmas" that uses the original Drifters arrangement with some vocal help from
Francesca Battistelli
, and a soulful take on "That Spirit of Christmas" from
Ray Charles' Christmas album
. Decide for yourself about the Christian aspect of this modern rock band, but this is a strong pop-rock celebration of the holidays.
UPDATE:
Forgot to mention that "Because It's Christmas" and "Hope Was Born" were part of
a 2012 EP
.