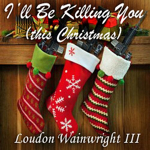 The
celebrated singer-songwriter and actor
, one of the early parade of "next Dylans," previously did a funny and still timely take on the holiday called
"Suddenly It's Christmas"
a couple decades ago, and another song,
"Christmas Morning."
For 2013, he redid the original live take of "Suddenly"
in the studio with a backing band.
As a companion piece, or shall we say B-side, he threw in this topical rewrite of "I'll Be Home For Christmas," using the holiday to take a potshot at Second Amendment absolutism. It's not bad, though it's a little heavy-handed compared to most of his work. But he apparently lives not terribly far from
Sandy Hook Elementary
, not that he needs any excuse to write any damn thing that comes into his fertile mind. Links are to Amazon, but you can also buy directly from Loudon's
website
.